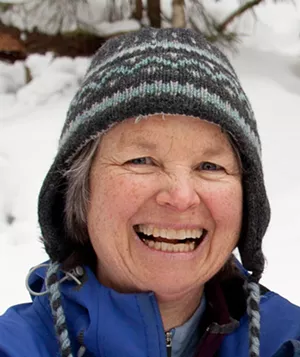 Priscilla J. "Cilla" Kimberly
Burlington
Priscilla J. "Cilla" Kimberly, 64, died Sunday, June 24, in Burlington, Vt.
Born and raised in Oshkosh, Wis., Cilla attended the University of Wisconsin–Madison, graduating with a bachelor of science degree in zoology.
She moved to Essex Junction, Vt., in 1978, first working for the Green Mountain Club maintaining trails on Camel's Hump. After a few months, she took a position with the University of Vermont Cancer Center. She retired in 2009.
Cilla's volunteer efforts centered on connecting neighborhoods with bike paths, including the Essex Junction Bike Path, and building backcountry ski trails, including the Woodard Mountain Trail.
She enjoyed skiing, kayaking, biking the back roads of Vermont, bicycle touring Europe, hiking in New Zealand and throughout the United States, and gardening. In retirement, Cilla renewed her love for drawing and displayed her art in several Vermont venues.
Cilla's enthusiasm for life was evident to all who met her. She will be greatly missed by many.
She is survived by her husband, Jerry Lasky; six brothers and sisters throughout the United States; in-laws in California and New York; and numerous nieces and nephews.
A celebration of her life will be private.
Memorial donations in memory of Priscilla J. Kimberly may be made to Vermont Land Trust, 8 Bailey Ave., Montpelier, VT 05602, or online.
Arrangements are in the care of the Cremation Society of Chittenden County.