Courtesy Photo
Pierrette Muir
Our loving mother, Pierrette ("Pete") Rose Vidal Muir, left us peacefully due to COVID-19 on December 21, 2020. It was our greatest sorrow not to be with her to hold her hand as she passed into the lord's hands.
Her story is more about her courage, strength, and never-ending relationship with her children, grandchildren and great-grandchildren.
"Pete" was born January 31, 1929, in Verdun, Québec, Canada. She left Montréal on December 15, 1954, at the age of 25 to marry our father, Richard Robert Pelletier, and start her life in California. She raised her five children, only separated by five years, including two Irish twins.
It must be said that her French Canadian heritage and strength gave her the courage to pack up her children in a station wagon and make her way across the country to Vermont to be close to her mother and godmother in 1972. She made the best of it, provided a home and life for her children, and worked in the Burlington area for many years.
God must have been testing her. Pierrette beat cancer three times: Hodgkin's, non-Hodgkin's and breast cancer. She was tough and would not allow it to consume or take her. She survived them all!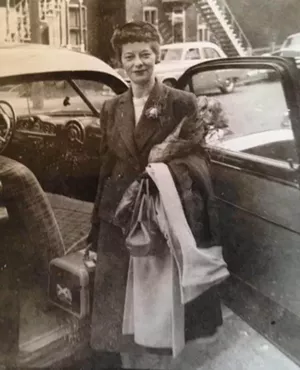 Courtesy Photo
Pierrette Muir
Our mom was a force and lived for her children. She was never one to ask for anything, and she found a way to care for five teenagers. She always made sure someone had a birthday card and a present. Many family members and friends have something to remember her by, thanks to her joy for knitting, crocheting and quilting. Mom passed these skills down to her children and grandchildren, and we are thankful for her teachings.
Mom was always right, and everything else "was stupid" (in her heavy French accent). We all enjoy repeating her words in her French accent and having a good laugh. In the end, every single one of us knew how much she loved us and that she was loved.
Pierrette leaves her five children, Michael (Shelley) Pelletier, Jill Welch, Patricia (Guy) Krenz, Barb (PJ) McHenry and Gerald Pelletier, who predeceased her in 2015. Her 14 grandchildren, Kristin (Jason) Little, Jay (Brooke Smith) Pelletier, Kevin Pelletier, Kyle Cunningham, Apryl Cunningham (Matt), Allen (Nicole) Cunningham, Tracy Krenz, Craig Pelletier, Nicole Kolvopsky (Faun), Erika Rouille, Gavin Rouille (Tyler), PJ McHenry Jr. (Montana), Kate Yingling (Chris) and Ali McHenry (Tyler) thought of her as Grandma Pete. To her 14 great-grandchildren, she was Gigi.
Mom, we know you'll be all right and watch over us where we go.
Help us to be wise in times when we don't know.
When we lose our way, lead us to the place and bless us.
Let this be our prayer.
Loving Mother, you will dearly be missed and honored for all that you have done for us.
We pray that we all will see you again in eternity.
May our good and merciful Lord Jesus bring peace, comfort and healing to all those who knew and loved our beautiful mother.
A special thank you to all the staff at Elderwood who took wonderful care of our mother, grandmother, our Gigi. A very special thank-you to Pam Clark, who sat with our mother until she took final breath.