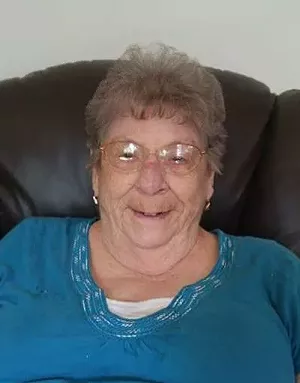 Mrs. Phyllis W. Plattner, age 80, passed away Saturday morning, December 17, 2016, at the Northwestern Medical Center, with her family at her side. She was born in Sheldon, November 11, 1936, daughter of the late Theodroa and Hilda (Johnson) Glidden. On April 16, 1955, she married Walter Plattner. She worked for Bob's Dairy Bar, Sander's Drug Store, Alexander's Drug Store, and finally for Union Carbide Corporation. She was a member of the VFW Ladies Auxiliary Unit #758. She loved dancing, hunting, fishing, bowling, going snowmobiling, but most of all, loving her grandchildren and great-grandchildren.
Phyllis is survived by her husband Walter, their daughters, Beth A. Powers and her husband Randy of Sheldon, Heather L. Plattner and her fiancé Robert Swensen, Sr, of Goshen, NH, their sons, Keith B. Plattner and his wife Lori of Swanton, and Jeffrey Plattner and his wife Amber of Jeffersonville, 12 grandchildren and 9 great-grandchildren, a sister Joy Smith of St. Albans, and a nephew Osburn Glidden and his wife Ellen of Mooers Forks, NY. Besides her parents, she was predeceased by a grandson Daniel Joseph Plattner, and her brother and sister-in-law Osburn and Pearl Glidden, and a brother-in-law Hubert Smith.
A Funeral of Christian Burial will be celebrated Wednesday, December 21, 2016 at 2:00 PM in the Brady & Levesque Funeral Chapel. The family will receive condolences at the funeral home, 86 South Main Street, St. Albans, from 1:00 PM until the time of the funeral. As an alternative to flowers, memorials may be made to the Alzheimers Association, 300 Cornerstone Drive, Suite 128, Williston, VT 05495. Online condolences and memories may be shared with her family at the funeral home website: www.bradyandlevesque.com. Arrangements are entrusted to the Brady & Levesque Funeral Home and Commemorative Services.