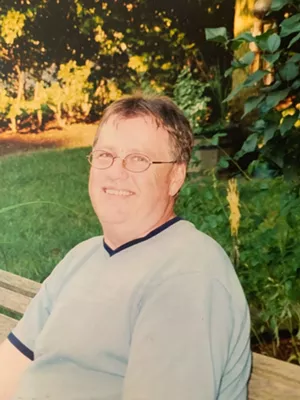 Courtesy
Peter Richard Wimble
Peter Wimble, 67, passed away on December 20, 2022, in Burlington, Vt. He was born on January 17, 1955, in Burlington, Vt., to Richard Wimble and Lillian (Lavalette) Wimble. Peter graduated from Essex Junction High School in 1973. He served in the Air National Guard in Vermont, Colorado and Texas.
Peter was married to his high school sweetheart and love of his life, Monica (Yandow) Wimble, for 46 years.
He immensely enjoyed traveling, particularly in small-town America. Pete was an avid baker and enjoyed many home-improvement projects. He easily made friends wherever he went with his quick wit, big heart and grand sense of humor.
Peter underwent a double lung transplant in 2011, which gave him a new outlook on life. He enjoyed living every day to its fullest, and he demonstrated that to all around him. From parachuting out of a plane to traveling to find the best Halloween town to finding the biggest burger, nothing was too big or too small to become an adventure when you were with him. Spending time with friends and family was his biggest passion.
Peter leaves behind his wife of 45 years, Monica (Yandow) Wimble; son Benjamin Wimble and his wife, Jenny (Marchessault) Wimble; daughter Charlette Wimble; brothers Michael Wimble and Timothy Wimble; sisters Susan (Wimble) Joyce and Lori Wimble and their spouses; and many loving nieces and nephews, for whom he was a favorite uncle.
He was predeceased by his parents, Richard and Lillian Wimble; sister Sally (Wimble) Colby; and brother Brian Wimble.
A celebration of life will be held at a later date. Contributions can be made to Brigham and Women's Hospital in Boston, Mass. Please consider becoming an organ donor. Please visit
awrfh.com
to share your memories and condolences.