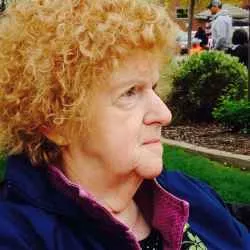 Patricia (Benoit) Gratton
Our mother, Patricia (Benoit) Gratton passed away peacefully at her home on Monday, March 28, 2016. As was her wish, she was surrounded by her loving family.
Mother was born on February 20, 1936, and just recently celebrated her 80th birthday. She was the daughter of the late William and Rachel (Trottier) Benoit. She attended school in St. Albans and was a 1955 graduate of BFA.
Pat married the late Maurice "Baldy" Gratton and together they had 3 children, Eugene, Lisa and Billy.
Mother worked hard to support her family, keeping a loving home and holding down a full time job. She worked for Fonda Container, Union Carbide and retired from IBM. She was strong, smart, proud, hard working woman whose family always came first.
After retirement, mother traveled close and far with multiples trips to Europe and Alaska. The favorite of all her trips was to Missoula, Montana in May of 2015. Her trip was perfect because she was surrounded by her family.
Locally she loved the local Craft and Farmers Markets making them a weekly tradition in the summer. She enjoyed herbs and gardening and would go far and wide to find the best garlic. She loved being the Queen of her Red Hats. She especially loved attending her grand children's school events, plays, hockey and football games.
Her passion and joy was her family who survive her: daughter, Lisa (Gratton) Larose and her husband, Joe, and their children, Lisbeth, John, Noah and Kambree and son, William "Bill" Gratton and his companion, Lisa Root and his boys, Andrew and Christopher; sister, Jeannette Lapierre and her husband, Gerald, and their children and grandchildren and many nieces and nephews.
Mother was predeceased by a son, Eugene Gratton on August 8, 2001.
At Patricia's request there will be no visitation.
A Mass of Christian Burial will be celebrated on Saturday, April 2, 2016, at 11:00 A.M. at Holy Angels Catholic Church, 245 Lake Street with the Reverend Maurice J. Roy as celebrant.
Expressions of sympathy may be sent to Franklin County Home Health Agency, Hospice Program, 3 Home Health Circle, St. Albans, VT 05478 or the American Cancer Society, Vermont Chapter, 55 Day Lane, Williston, VT 05495.
Messages of condolence to the Gratton family are welcome at www.healdfuneralhome.com.