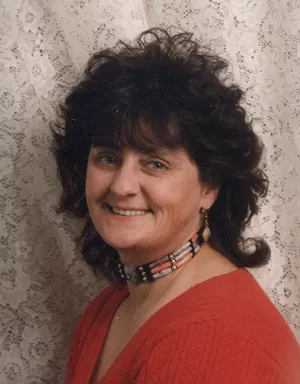 Patricia Ann Corwell passed away on January 25th, 2015 at home with her loving family by her side. She fought a long courageous battle with Lewy Body Dementia. Patricia was born on September 25th, 1950 in Swanton, the daughter of Hubert & Hilda (Minkler) St. Francis.
Patricia enjoyed taking long rides in the country and fishing. Her most enjoyable moments were spending time with her family. Patricia was a loving and giving woman that was loved by many people. She was also a proud member of the Abenaki Tribe of Swanton, Vermont.
She is survived by her partner & best friend Douglas Corey and her three daughters. Stacey Corwell and partner John Lockwood Jr of Alburg , Pamala Armstrong and partner Daniel Swedo of Essex Jct, Tammy Brunton and husband Paul of Alburg. She is also survived by five grandchildren and two great grandchildren: Chelsea and Paul Brunton, Samuel and Gabrielle Armstrong, and Brandon Lockwood, (great grandchildren): Ava and Evony Marshall. Patricia is also survived by her eight brothers and two sisters as follows: Robin St. Francis of St. Albans, Danny St. Francis and wife Cindy of St. Albans, Hubert Jr St. Francis and wife Sandy of Swanton, James St. Francis and wife Candy of Swanton, Ronald St. Francis and partner Bev of Swanton, Terry St. Francis and wife Cindy of St. Johnsbury, Thomas St. Francis and wife Debbie of Swanton, and Lorenzo St. Francis of Swanton, (sisters)- Debra Mooney of Swanton, Tina Brace and husband James of St. Albans. Patricia is also predeceased by her parents Hubert and Hilda St. Francis of Swanton, and three brothers Richard, Robert, and Paul of Swanton.
A gathering of friends and family will be held in her memory on January 31st, 2015 at 49 ½ Pine Street in Swanton from 1:00 – 4:00 P.M. at the residence of her Parents Hubert and Hilda St. Francis.
Arrangements are under the direction of The Kidder Memorial Home, 89 Grand Avenue, Swanton.
To offer private online condolences please visit: www.kiddermemorialhome.com