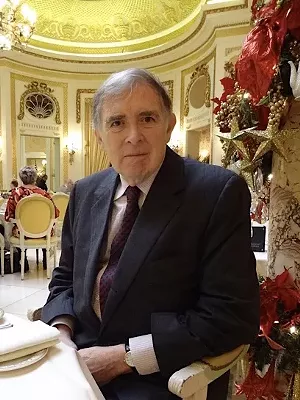 Olin Clyde Robison, a former president of both Middlebury College and the Salzburg Seminar, died Monday, October 22, at the age of 82. He had been in poor health for several years and was surrounded by family at the end.
Born in Anacoco, La., on May 12, 1936, to AC and Ruby (Cantrell) Robison, he was raised in Port Arthur, Texas, where he attended public schools. He attended Baylor University in Waco, Texas; Southwest Baptist Theological Seminary in Fort Worth, Texas; and Oxford University, where he earned a DPhil in church history in 1963. His experience at these institutions marked him deeply, instilling in him a lifelong belief that education is the great equalizer in our democracy.
In 1964, Robison moved to Washington, D.C., to join the administration of president Lyndon B. Johnson. He served as director of university affairs at the Peace Corps and, later, as a special assistant to the deputy undersecretary of state. Leaving government in 1968, Robison held senior posts at Wesleyan University in Middletown, Conn., and Bowdoin College in Brunswick, Maine, before becoming president of Middlebury College at the age of 39 in 1975.
During Robison's 15 years at the helm of the Vermont liberal arts school, he oversaw significant growth in both student enrollment and the college's physical infrastructure. Though out of government, he remained an active consultant for the state department and used that experience to establish what he long regarded as one of his most significant achievements: a nationwide program that brought Soviet undergraduates to study on American campuses, something that was almost unheard of even in the waning days of the Soviet Union.
After retiring from Middlebury in 1990, Robison became president of the Salzburg Seminar, a think tank with headquarters in both Austria and the United States. During his tenure, the organization's endowment grew from $1.4 million to $19 million, and participation in its programs rose from 300 to 1,400 people annually. Robison also oversaw the restoration and upgrading of the seminar's base at the 18th-century Schloss Leopoldskron in Salzburg, a building familiar to generations of moviegoers from its use as the von Trapp family home in The Sound of Music.
Robison was a longtime member of the Royal Institute of International Affairs (Chatham House), the Council on Foreign Relations and the University Club of New York City. He contributed weekly commentaries on global affairs to Vermont Public Radio for nearly two decades and was also a partner in Black Coyote Chateau, a multi-award-winning Napa Valley winery.
He is survived by three sons: Gordon, a journalist with Al Jazeera English based in Doha, Qatar; Blake, artistic director of Cincinnati Playhouse in the Park; and Mark, a professor of clinical education and history at the University of Southern California. He is also survived by five grandchildren; a great-grandson; his sister, Sandra Nabours; and his former wife, Sylvia Potter Robison.
A celebration of life will be held in Middlebury, Vt., at a date to be announced. In lieu of flowers, memorial gifts can be made to the Project on Religion and Public Policy at the Centre for Christianity and Culture at Regent's Park College, Oxford University.