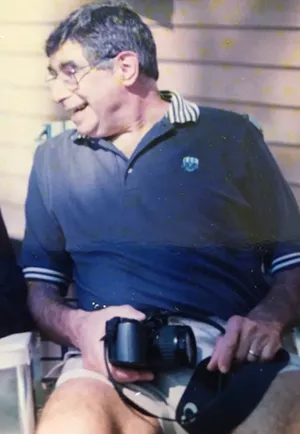 Courtesy Photo
Norman Schnayer
Norman Schnayer left the world on August 21, 2020, hoping that, through his and others' efforts, good would triumph over evil and, come 2021, the Donald Trump fiasco would be history. Although he was able to vote in the August primary, Norman was really trying to make it to November so that he could cast his vote for Joe Biden.
Born January 3, 1936, in Poughkeepsie, N.Y., to Elizabeth Mandel Schnayer and Herbert Schnayer, Norman was a caring and generous man who was always deep in thought. Norman didn't always share his thoughts, but you always knew he had something to say. He loved reading, gardening, classical and jazz music, tennis, his cats and Joyce's poodles, the seacoast of Maine, watching the birds, and a good cup of coffee and a slice of babka. Norman was equally skilled in the kitchen and in the woodshop; baking chocolate cakes and renovating old houses came easily to him. Most of all, Norman loved his family and friends. He was a devoted husband, brother, stepfather, grandfather and uncle.
Norman had a unique sense of humor that made everyone around him laugh. He loved to make others smile, and his warmhearted energy was felt by all who knew him. He was always interested in how others were doing and especially loved to hear about how his grandkids' studies were going. Whenever Norman greeted you, it always felt like he was so happy to see you. Norman was genuinely interested in those around him, and one could really tell that when you spoke to him. He was a very charitable man, donating to environmental, social justice and human rights causes. Norman volunteered to help the homeless, was a mentor with Everybody Wins, and, while living in the Berkshires, was active in his synagogue and a member of the Mitzvah Mobile.
Norman and Joyce spent over 30 years together. They shared interests in cooking, music, tennis and animals. While in good health, they traveled together and had many exciting and enjoyable adventures in Maine, Alaska and abroad. Norm tried to get Joyce interested in algae and plants and taught her a lot. When they retired to the Berkshires, they loved the social and cultural activities of the area. Their home became the center of a growing family of kids, spouses and four grandchildren. Norman, unlike members of the Freundlich family, was very handy and had a great time designing and building a super swing set for all the grandchildren to play on.
Norman's life work was as a botanist and a provost at Rutgers University. He loved learning and enjoyed sharing his knowledge of topics from algae to the eradication of smallpox. At 60, he took up the clarinet. Norman was most proud of his accomplishment of earning his PhD. Norm was an independent and stubborn soul who wanted to do all he could on his own. He refused again and again to let Wendy trim his overly bushy eyebrows, but he always refused her offer with a smile. He owned up to his mistakes in life and almost always apologized if his anger management was not completely perfect. He remembered very fondly the raisin Schnecken his grandmother baked for him when he was a child.
Norman is survived by his wife, Joyce Freundlich, of Middlebury, Vt.; stepdaughter Wendy Freundlich of Middlesex, Vt.; stepson Kenny Freundlich and his wife, Marjorie Freundlich, of Needham, Mass.; sister Caren Schnayer of Glendale, Ariz.; grandchildren Josh and Anna Farber of Middlesex, Vt., and Maddi and Adam Freundlich of Needham, Mass.; niece, Michelle Green, of Glendale, Ariz.; nephews David Green of Bel Air, Md., and Andrew Green of Cwumbran, Wales, Great Britain; and also by his special friend Elo Mc Laughlin. Norman was predeceased by his parents, Herbert Schnayer and Elizabeth Mandel Schnayer, and his sister Barbara Laing.
Norman's family would like to extend our heartfelt thanks and gratitude to the loving and competent staff on the Med/Surgery Unit at Porter Hospital; Taylor Zac; Porter Hospital's palliative care team; Addison County Home Health and Hospice; Vida, Francis and Blandine Manga of Loving Home Care; and the entire nursing and care staff at the Residence of Otter Creek.
Contributions in Norman's memory can be made to the charity of your choice.