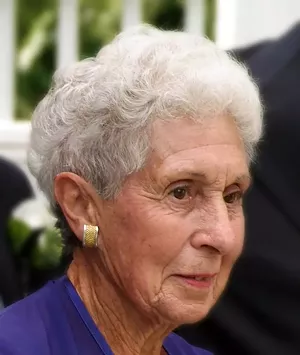 Norma Troup Sassorossi, 94, passed away peacefully on July 21, 2019, at the McClure Miller Respite House in Colchester, Vt. Born on June 24, 1925, in Barre, Vt., she was the daughter of William Pratt and Margaret (Galli) Troup. Barre became her geographical anchor throughout her life.
Norma graduated from Spaulding High School (SHS) in 1943, where she formed lifelong friendships and was active in many activities, including serving as a majorette, a talent she later reprised at several class reunions. After high school, Norma attended Simmons College, where she graduated as a registered nurse. Norma and Elmo Sassorossi, a 1942 SHS graduate who had returned to Harvard College following his World War II service in the Army, began dating while both lived in Boston.
On April 9, 1949, Norma and Elmo were married, a date — 4/9/49 — that Elmo often reminded his family made it easy to remember anniversaries. Returning to Barre, the couple started a family in 1951 with the birth of Kenn, followed by a second son, Jeff, two years later.
Norma never seemed to stand still for more than a few minutes. She enjoyed golfing with Elmo and friends at the Barre Country Club, where she won a Ladies' Club Championship and recorded two holes in one. Other recreational interests included playing bridge, painting and bowling. Norma's family particularly appreciated her culinary talents, never more apparent than at Christmas, when platters of holiday confections, pasta frollas, ossi dei Morti cookies and a parade of pies appeared. Kenn and Jeff fondly remember the food packages they gleefully received at college, which included sweet treats and "marijuana toast" — slices of toast seasoned with dill, garlic and other spices.
Remaining at their Abbott Avenue home in Barre until 2016, Norma and Elmo then moved to the Gazebo Apartments assisted living in South Burlington.
Norma is survived by her loving and dedicated husband of 70 years and her two sons, four grandchildren and five great-grandchildren. The family includes Kenn Sassorossi and his wife Judy (Bickford) Sassorossi, their daughter Kathryn Aisenberg and her husband Jonathan and their children Lucia and Dario; their daughter Martha Sassorossi and her husband Rafael Ferrer and their newborn daughter Vera Adelina; and Jeff Sassorossi and his wife Beverly (Darling) Sassorossi, their son William Sassorossi and his wife Margaret (Newton) Sassorossi and their children Eleanor and Samuel; and their daughter Kristine Sassorossi. She is also survived by her niece Cindy Dye Kearley and her husband Steven and their son Kevin. Norma was predeceased by her sister Patricia Troup Dye.
There are no visiting hours, and interment will be at the convenience of the family.
In lieu of flowers, memorial contributions may be made to the Barre Kiwanis Club to benefit the Mort Kelly Children's Literacy Program, P.O. Box 724, Barre, VT 05641.
Arrangements are in the care of the Hooker and Whitcomb Funeral Home, 7 Academy St., Barre. For a memorial guestbook, visit hookerwhitcomb.com.