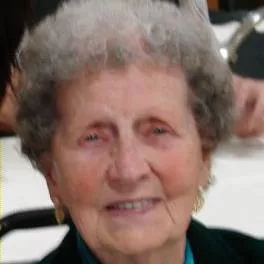 Nettie S. Cusson age 94, received her wings Sunday, December 28, 2014. Surrounded by her family at the home of her loving granddaughter and caretaker of 14 years June Root.
Born in Swanton February 11, 1920. She was the daughter of Alma (Vaughn) and Rueben Wells. In earlier years, she worked at the Red Cross helping to tend too the wounded that came home from the war. Later was a house cleaner for many people in the area and was highly praised for the perfection and pride she took in every home she cleaned as well as her own. After that Nettie and her husband owned and operated Joe's Upholstery. They worked side by side for many years until her husband's health failed and they retired.
People always complimented her on her beautiful flowerbeds which she was very proud of. She also loved watching the red cardinals flying to her many birdfeeders. Her favorite times thou were spent at camp with all the family whom she loved and always showed through her beautiful smile and big heart.
She leaves behind her loving granddaughters- June Root and comp. James Gauvin (who she considered a grandson) of St. Albans. Patricia Sifford and husband Perry of VA. Beach, VA. Mary Pelissier (who also helped to care for her) and comp. Gary Carncross of Richmond, VT. One grandson Chuck Bessette (who predeceased her Nov. 20 of this year) and his wonderful ex wife Sue Bessette (who she also considered a granddaughter). Three special great grandchildren Joel Root and wife Missy, Josie Taylor and husband Will, Jollene Brault and a special great, great grandson Nicholas Root. They were always there to lend a helping hand. Other great grandchildren- Jerrod Bessette, Ronald and Travis Rushford, Antoinette Charles, Kelly Clements, Ryan Pelissier. Great, great grandchildren- Tayler and Brayden Brault, Heath, Wyatt, and Brecken Taylor, Aiden Bessette, Cody Pelissier, Luke and Baylee Clements, Jayden and Elijah Charles, Burgandy and Erin Rushford. One great, great, great grandchild Blaze Rushford. Also very close to her were special nieces Linda Tuttle, Paulette Brothers, Sandy Cusson, Kay Moore, Louise Raymond and their families. Also several other nieces and nephews.
She was predeceased by her husband of 60 yrs. Joseph Cusson, daughter Mary Jane Bessette, grandson Charles Bessette Jr. Her siblings Margarete Cusson, Doris Bard, Archie, Morton, Leroy, Charles and Waldo Wells.
Nana was a very loving, caring, and sweet lady who never judged anyone. She will be missed by all the hearts she touched but her memories will live on forever. Until we meet again, rest in peace nana, we love and miss you.
Calling hours will be 2 PM - 5 PM Saturday, January 3rd at The Kidder Memorial Home, 89 Grand Avenue, Swanton, VT. Burial will be in the spring 2015. A reception will follow in the lower level of VFW in Swanton.
To offer private online condolences please visit www.kiddermemorialhome.com