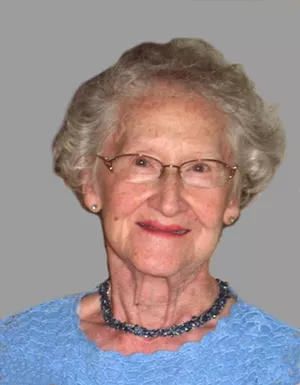 Mrs. Jeanne d'Arc Rainville
Mrs. Jeanne d'Arc Rainville, age 91 years, died Wednesday morning September 11, 2013, at the Our Lady of Providence Residence in Winooski.
Born in Dunham, Quebec Canada on April 29, 1922, she was the daughter of the late Delvini and Emma (Comette) Jette. She attended schools in Canada, graduating in 1943 as a Registered Nurse from the Saint Charles School of Nursing in Ste. Hyacinthe Quebec. She worked many years as a Registered Nurse at the former Saint Albans Hospital and Verdelle Village Extended Care Facility.
On August 30, 1947, she married Rene J. Rainville who predeceased her on April 18, 1993. Together they lived in Saint Albans and Swanton. For the past 7 years she has been a resident of Our Lady of Providence in Winooski.
A woman of tremendous faith Jeanne d'Arc was a devoted parishioner of The Church of the Nativity of the Blessed Virgin Mary where she belonged to the Ladies of Saint Anne. In earlier years she had also been active at Holy Angels Roman Catholic Parish in Saint Albans and a member of the Ladies of Saint Anne their also.
Jeanne d'Arc leaves two sons, Gerard Rainville of Highland Calif. and Norman Rainville of Waitsfield; two daughters and their husbands, Francine and Joseph Rampe of Essex Junction and Estelle and Douglas Hunt of Shelburne; a daughter-in-law, Martha Rainville of Holly Ridge, NC; nine grandchildren; 2 great grandchildren and many nieces and nephews both in the United States and Canada.
Besides her husband Rene, Jeanne d'Arc was predeceased by her sisters, Elizabeth Plouffe, Aurore Lemaire, Annette Raymond, Irene Laroche, Leona Fontaine and Marguerite Jette as well as her brothers, George, Leo and Albert Jette.
The Liturgy of Christian Burial will be celebrated Monday, September 16, 2013, at 10 a.m. at The Church of the Nativity of the Blessed Virgin Mary, 65 Canada Street, Swanton. Mrs. Rainville's nephew, Father Marcel R. Rainville, SSE will be the celebrant and homilist. The Rite of Committal and Interment will follow at the Rainville family lot in Saint Mary's Cemetery.
Friends may call at The Kidder Memorial Home, 89 Grand Avenue, Swanton on Sunday from 2 to 5 p.m.
In lieu of flowers, gifts in Jeanne d'Arc's memory may be made to the Our Lady of Providence Residence, 47 West Spring Street, Winooski, 05404.
To offer private online condolences please visit: www.kiddermemorialhome.com