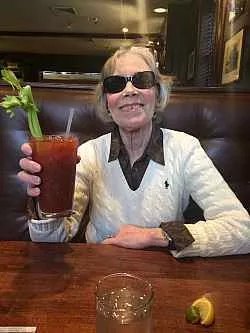 Our dear sister and friend Molly E. Jarvis passed away at the Vermont Respite House on 27 June 2016, surrounded by family and close friends. Born in Moses Lake, Washington, she was the daughter of the late Richard and Doris Jarvis. She grew up in St. Albans, Vermont where she graduated from Central Catholic High School. Molly received her Bachelor's Degree from Trinity College and a Masters Degree in Social Work from UVM. She worked as a social worker for the Department of Children and Families where she touched the lives of many people with her caring and kindness.
Molly leaves behind her family members Richard and Claudia Jarvis of Swanton, Vermont, James and Karen Jarvis of Buffalo, New York, Nancy and John Mueller of LaFayette, New York and Arlene Jarvis of St. Albans, Vermont. In her passing she was surrounded by the love of her family and her close friends, Ann Sweeney, Jane May, Susan Pillsbury, Valerie Koropatnik, Wendy Wells, Patty Reaves, Monica Sargent and her cousin, Joan Sylvester, as well as her beloved furry friends, Rudy and Chico.
A memorial gathering of family and close friends is being planned for some time in July.
Donations in Molly's name may be made to the Vermont Respite House, 99 Allen Brook Lane, Williston, VT 05495 or the Humane Society of Chittenden County, 142 Kindness Court, South Burlington, VT 05403.
Arrangements are being made by the Heald Funeral Home in St. Albans, where messages of condolence are welcome at www.healdfuneralhome.com.