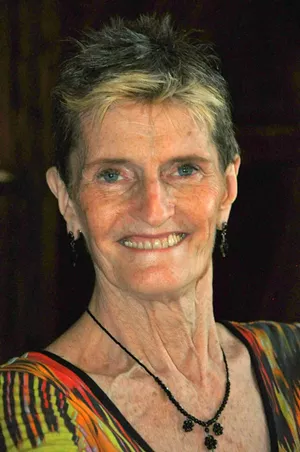 Mimi (Meiboom) Gutchell , 68 of Burlington passed peacefully in the comfort of her home with her daughters by her side and her home filled with her loving family on Saturday February 6th.
Mimi was born on 3/20/47 to Sheldon & Ruth (Gysander) Meiboom in Teaneck, NJ. She graduated from Roy C Ketcham High School in Wappingers Falls NY in 1965 and later moved to VT with her family where she attended and graduated from Champlain College after which she went on to start her family.
Mimi followed in her Father's footsteps to embark on a career at IBM. She enjoyed 20+ years with IBM and made many longtime friendships while there. While working full time she also went on to obtain her Master's degree from Trinity College. Mimi stayed in contact with a special group of ladies from IBM who continued to get together to this day. She also enjoyed her time working after IBM at The Church Street Market Place where she of course made many more special friendships.
Mimi's greatest love was her family. She loved to be around her family whenever possible with many Thanksgiving dinners and 4th of July parties that will remain beautiful memories for all of our families. She was a compassionate and selfless woman who was always concerned with others around her who were in need. Always the first to offer her help and a warm meal. She continually felt someone was always worse off than her, no matter what her situation.
Mimi was a true gift to her own family. She found great enjoyment while lovingly creating quilts for each of her Grandchildren and Great Nieces as they were born into the family. She loved following her three Grandchildren through every one of their sports, academic and life achievements. She adored her Grandchildren and was a part of their everyday life. She lived for her family and leaves a beautiful legacy of love behind for us all.
Mimi is survived by her two daughters, Kirstin (Gutchell) Decelles and her husband Paul and Daughter Ella. Kimberli (Gutchell) King and her husband Kevin and children Makayla and Tanner King. Her former husband Craig Gutchell (and wife Sandy) whom has remained close and has been a pillar of strength for not only her but for their daughters as well to lean on throughout. Her Mother-in-law June Gutchell, whom she loved dearly. Sister in law (but more like an actual sister) Leslie Bouchard; Brother in law Tim Gutchell and wife Laurie Gutchell. Nieces who were much more like daughters to her, Jennifer Paradee and husband Matt Paradee; Michelle Duval and husband Jim Duval. Niece Allyson Gutchell; Nephew's Colin Gutchell and Wiley Gutchell. Great Nieces Acadia, Emma and Madison and Great Nephew Benjamin. Very special close friends who endured every up and down of Mimi's life along with her, Judy Bombard, Arlitha Racine and Carol LeBlanc. Mimi is predeceased by her parents, Sheldon and Ruth Meiboom and her Father in law Marc Gutchell.
Our family would like to especially thank Dr. Julian Sprague, JoAnn Neilson and all of the wonderful, RN's LPN's, Oncology staff, PPR staff, ER staff, right down to the compassionate valet staff at The University of VT Medical Center that took such wonderful care of Mimi during her courageous 18 year battle with cancer.
A memorial service will be held on Saturday February 13th at Ready's Funeral Home at 261 Shelburne Road Burlington VT 05401 from 11am-noon with a reception to follow at St John's Club at 9 Central Ave Burlington VT 05401. In lieu of flowers we would ask for those that wish can make a contribution in Mimi's honor to Leukemia and Lymphoma Society, 5 Computer Drive West, Suite 100 Albany NY 12205 or on-line at donate.lls.org