Our father, Michael Martello, passed over into spirit on the morning of May 28, 2020, at home with family by his side.
Born in Burlington, Vt., on Dec. 12, 1927, to the late Constance and Thomas Martello, he and his wife, Marion, raised four children together. All four and their spouses live in Vermont: the eldest, Pat and Jim Little of South Burlington; Tom and Gail Martello of Fairfield; Randy and Patty Martello of Richford; and Kelly and Randy Quenneville of Wolcott — all successful, happy and as individual as their parents. He lived close to three grandchildren, Jacob and Nathan Little and Thomas Martello; and five great-grandchildren, Haley Drown, Ethan and Tegan Little, and Skylar and Maddox Martello. He is survived by his sister Corona Shepherd, brother Tony Martello and sister Dorothy Corrigan.
He and Marion lived with their eldest daughter and her husband for the last 20 years. Marion predeceased him in 2003. In this secure and loving environment, he happily lived to the ripe age of 92. With the care and attention he received from those he lived with, he remained not only active and driving but playing gigs until he turned 90. After his 90th birthday bash, he slowed down some but still enjoyed frequent lunches or dinners out with family and friends. He enjoyed a close friendship with two fellow musicians Jeff Wheel and Anthony Santor.
Michael started his musical journey as a young boy playing traditional Italian songs on mandolin for his Italian immigrant mother and uncles. His mother would hum the tunes, and he would play the notes. He became a well-known, gifted jazz guitarist. Playing during the Burlington Discover Jazz Festival or anywhere else, he loved when family and friends would gather to watch and listen. You can read a wonderful Seven Days front-page article from December 14, 2016, on his musical career.
In the last several years, he was able to spend more time getting to know each of his kids. He enjoyed going to New York to the casinos with Pat and her husband, Jim. While he never did hit the jackpot, it never made him stop wanting to go, even if he "lost his shirt."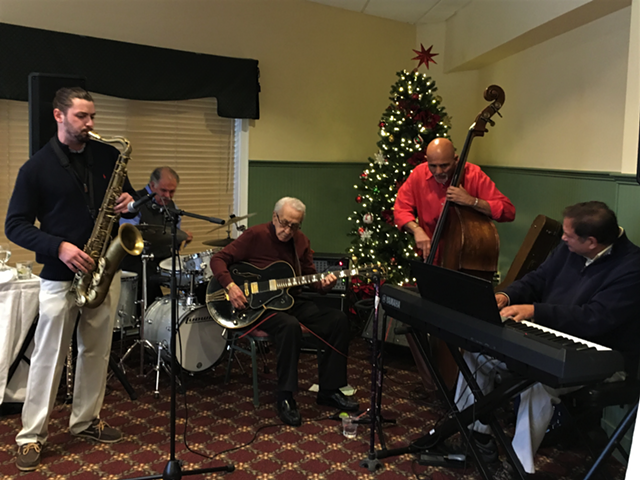 Michael and fellow musicians
Kelly and Randy were able to have him up for long weekends on their small farm in Wolcott, Vt. While there, he loved to sit snuggled up in warm blankets on their screened-in porch, overlooking grassy meadows and watching his favorite cow, Springy. Most recently, he spent the first three weeks of the "Stay Home, Stay Safe" order with them. We feel so fortunate to have spent that quality time with him. The memories will last forever.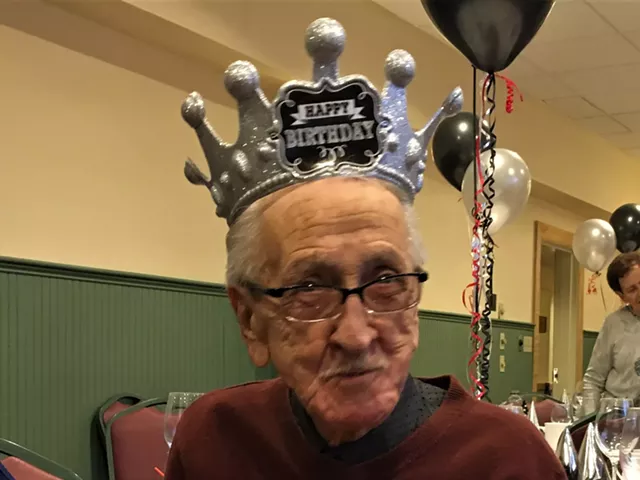 When Randy and Patty moved back from Utah, Dad was able to spend some time at their home in Richford, overlooking wide fields full of deer while snug and cozy by the woodstove.
Tom and Gail were able to have him up to their home in Fairfield to enjoy cookouts with them and his great-grandchildren, along with family holiday gatherings.
Dad was a huge part of our lives, and his passing has left a hole that will never be filled. Without even knowing it, he taught us all many lessons: Be kind, think of others, love, attention, patience, and time spent with those you care for. Father, grandfather, great-grandfather, brother, uncle, friend and mentor. We will see each other again, one day.
There will be no calling hours.
Arrangements are under the care of LaVigne Funeral Home and Cremation Service.