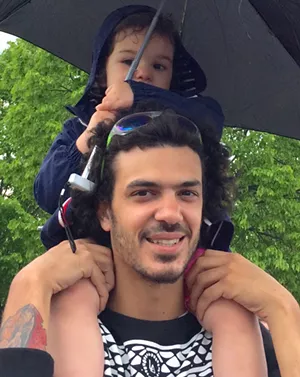 Courtesy Photo
Michael Loyer
Michael Alexander Loyer of Burlington, Vt., died suddenly on January 9, 2021, in a tragic early-morning fire that also took the life of his neighbor and friend, Henry Burawa.
Michael was born on November 2, 1989, in Burlington, Vt., the son of Michael Bradley Loyer and Sandra Racine Bradshaw. He graduated from South Burlington High School with the class of 2008.
Throughout his childhood, Michael was an active, precocious boy, always outside and exploring. He loved the outdoors, especially camping and fishing with his father and diving at his favorite swimming holes. He was an enthusiastic music lover, which led him to pick up the guitar. He also had a natural talent for both snowboarding and photography — an art form he had recently rededicated himself to and had received a small scholarship to study. His hopes were to use photography and screen printing to showcase his longtime love of graffiti art and culture.
He also had a lifelong passion for history, politics and social sciences. Michael felt very fortunate to have traveled throughout the U.S. and to have visited countries such as South Africa, Ecuador and Jamaica. Those travels reinforced his strong belief in advocating for those in need — for close friends and strangers alike — by lending a hand or sticking up for the underdog whenever he could.
Mike was a hard worker who was good with his hands and hated to ever be late. He gained valuable skills from and took particular pride in his time spent working at local businesses Dynapower in South Burlington and Logical Machines in Charlotte, as well as working beside his father and uncle at Trenchless Technologies in South Burlington. He truly appreciated those opportunities.
Unfortunately, for much of his time, Michael was also fighting for his life. What started as innocent experimentation in middle school grew into a repeated pattern of substance use, which later became a much deeper dependency after the tragic death of his father in a construction accident in 2011. Michael's heartbreaking struggles with addiction and the loss of his father led to many years of pain, mixed with wonderful stretches of hope.
His shining light through it all was the unconditional love of his only daughter, Saedi, and his parents, Sandra and Michael. Their belief in him helped him see what might be possible. With a six-foot-seven frame, he could be an imposing figure ... until he smiled. He had a laugh that could go from a chest rumble to a high-pitched, childlike giggle. And once it started, it was infectious.
Mike's family is comforted in knowing that on his last day here on Earth, he was happy. He had his family, a great roommate, a new friend, a few bucks in the bank and possibly a new job. His last words to his daughter and parents were simply, "I love you."
Michael is survived by his 8-year-old daughter, Saedi Jane; Saedi's mother, Tess Scott; his parents and Saedi's guardians, Sandra and Michael Bradshaw; step-grandparents David and Marilyn Bradshaw; step-grandfather John Morin; step-grandmother Barbara Loyer; aunt Darlene Loyer; uncles and aunts Steve and Mary Loyer, Tom and Lori Loyer, Shawn Morin, Jay Morin, Jack and Lauri Morin, Scott Loyer, and their families; step-uncle and step-aunt, Terence and Julie Bradshaw; and many cousins, friends and extended family on all sides, whom Michael cared about very much.
He was predeceased by his beloved father, Michael B. Loyer; grandparents Carl and Ernestine Racine; grandmother Theresa Morin; and grandfather Alexander J. Loyer.
Due to COVID-19 restrictions, a graveside service for immediate family only will be held on Saturday, January 23, at 11 a.m. at Resurrection Park Cemetery, 200 Hinesburg Rd., South Burlington. No indoor gatherings or funeral procession will be taking place, but the family encourages friends to pay their respects at their convenience later.
In lieu of flowers, memorial contributions in Michael's memory may be made to an education fund to benefit his daughter, Saedi, at gofundme.com/f/dads-love-for-saedi-education-fund or to the Northern New England Region — American Red Cross to benefit Michael's neighbors or anyone displaced or affected by fire tragedies: redcross.org/local/me-nh-vt.html.
Arrangements are in the care of the Ready Funeral & Cremation Service, 261 Shelburne Rd., Burlington.