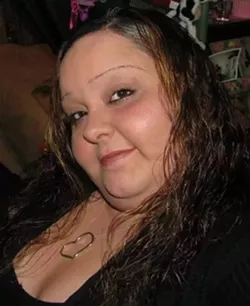 BURLINGTON - Melissa A. Verge, 36, of 60 Austin Drive in Burlington, passed away after a long fought battle of Cervical Cancer with her family by her side on January 19th, 2017 at McClure Miller VNA Respite House in Colchester.
She was born in Burlington, VT on December 11th, 1980. The daughter of Rose Verge and Joey Menard. She is predeceased by her grandmother Doris Menard, grandfather Edward Menard, best friend Robert Berard, and her unborn child.
She is survived by her best friend and mother, Rose Verge and sister Tammy Verge. Her father, Joey Menard and Step-Mother, Becky Menard. Her sister, Cassidy Menard. Brothers, David Verge and his fiancé Laurie Ritchie, Eric Rouleau, and Brian Francis. Her grandparents, Gladys and Norm. She is also survived by many Aunts, Uncles, and Cousins, who she loved dearly but are too many to name. She is also survived by many friends who she loved a great deal and loved her in return, Kevin, Sara, and Tina Ploof to name a few.
She is most importantly survived by all the many children's lives she touched by caring for them in a compassionate, loving, and caring manner. Tyler, Hannah, Jazmine, Kaylyn, A'vry, Ocean, Chloè, Alayna, Jordan, Ayva, Rylie, Mckenna, Skyler, Jace, Jaxson, Taylor, Emily, Noah and her Godsons, Konner, Preston, Kaleb, and Brayden.
Melissa loved her family and the children entrusted in her care very much. She was a selfless person, who loved endlessly. She loved her New York Yankees, and the city of New York itself. She loved the beach and camping trips with her family. She loved her pets, her rabbit, Thumper and her kitten, King, who both have found loving homes within her family.
We would like to send a heartfelt thanks to the many wonderful doctors and nurses that cared for Melissa at The University of Vermont Medical Center and McClure Miller VNA Respite House.
Funeral Notice: Thanks to Lavigne Funeral Home and Champlain Cremation, for their help. There will be no actual funeral service, as that was her wish. A Celebration of Life is to be determined. Donations can be made to the MOO$TRONG & MAMA FUND by Cassidy Menard at GoFundMe.com.