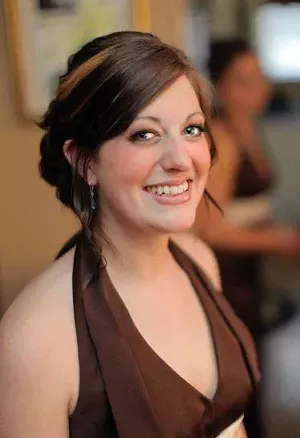 Megan Angelina Webbley, 31, passed away unexpectedly on Sunday, September 29. Specifically, she died of an overdose, finally losing her battle with addiction. She was in Manchester, N.H., seeking treatment for her addiction. We have no clear picture of what went wrong. Megan leaves behind her mother, Dorothy Provenzano, of Boca Raton, Fla.; her father, Edwin Webbley, of Middlebury, Vt.; and her brother, Michael Henderson, of Los Angeles, Calif.; as well as many loving cousins, aunts and uncles. She also left behind four beautiful children who were collectively the light of her dark life.
Though shadowed by opiate addiction, Megan enjoyed a big smile and an infectious laugh. She loved all kinds of music, dancing and doing her makeup. Empathetic in the extreme, she was the underdog's biggest advocate. And against all circumstances, when she could be, she was a loving, gentle and doting mother. Just last year, she spent a few hours in the pool with all four kids (the youngest has since been adopted by a loving family), and it was a rollicking, madcap outing featuring a waterslide and peals of laughter. It was at that point when she was the happiest we had seen her in years.
Megan grew up in St. Albans and Georgia, Vt., participating in dance and swimming. She proved to be an adventuresome reader and a fearless jumper off cliffs. But on July 1, 2005, she was once again at a cliff on Eagle Bay in Burlington. I was sitting at my desk on the first day of a new job, and a Vermont State Policeman called to tell me to drive to the emergency room at the University of Vermont Medical Center. I was told that she had been pushed off the cliffs and hit the rocks below … with her face. Having been rescued by a man in a kayak and EMTs, she was being stitched up, and her jaw was wired shut. They suspected a TBI, but when they prescribed her liberal doses of opiates, she lost control of her life. She would be in and out of rehab — and jail — for the next 14 years.
To editorialize, I am hoping that the Department for Children and Families rethinks its mission to be the punisher of addicted mothers, the separator of families and the arbiter of children's futures, and instead embrace a mission of enhanced rehabilitation. We, as a state, are overwhelmed by addiction. We have almost nowhere to turn. I encourage enhanced funding for treatment in general and using DCF as a gateway for mothers with addiction to get help. Because, as one would guess, once the mother is separated from her children, desperation sets in, even with the brightest and most determined of mothers — and Megan Angelina Webbley was that bright and determined mother … with a fatal disease and a dearth of treatment options.
—Submitted by Megan's father