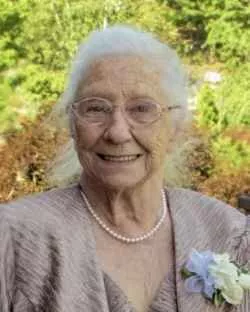 Maude Louise (Sturton) Sheppard
Maude Louise (Sturton) Sheppard, 96 and a longtime resident of St. Albans, passed away on November 5, 2016, surrounded by her loving family. She will be missed by the many lives she touched with her intelligence and gentle, kind and giving spirit.
Maude was born on December 15, 1919, in Quebec City, Quebec, the daughter of Maria Bourdeau and Livesay Sturton. She attended Laval University and the University of Montreal. During World War II, she and her sister Margaret were active leaders of the Canadian Women's Volunteer Reserve Corps and members of the Canadian Red Cross, both of which supported the Allied troop presence in Quebec City, a combat staging area from 1939 to 1945. She moved to St. Albans in 1950 upon her marriage to Lester Paul Sheppard (deceased 1995), and was an active member of St. Mary's Church where she served as a CCD teacher for many years. She was a founding member of the Franklin County Human Relations Society and worked at Union Carbide for many years as a quality control inspector and as the first woman to work as a machinist in the machine shop. After her retirement she housed and cared for elderly women in her Fairfax home before returning to her house in St. Albans.
Maude was predeceased by her infant son Daniel in 1958, and is survived by her other children: Ralph Sheppard of Bridgeport, CT; Anne Marie Sheppard-Parent of Fairfax, VT; Elizabeth Granoff of Bristol, RI; and Evelyn Martel of Berkshire, VT. She will be missed by her 16 grandchildren: Alex Sheppard, Kathleen Sheppard and Amelia Sheppard; Elizabeth Parent, Andrew Parent, Adam Parent and Katherine Parent; Ethan Granoff, Emily Granoff, Edith Granoff, Elliott Granoff and Ellen Granoff; and Scott Martel, Nicholas Martel, Heather Cole and Tonya Martel. She has been blessed with six great grandchildren. She is also survived by her sister Margaret Levesque of Petawawa, Ontario and many nieces and nephews.
Calling hours will be from 9-10:30 AM on Saturday November 12th at the Heald Funeral Home, 87 South Main St. St. Albans. This will be followed by a Mass of Christian Burial at 11 AM at St. Mary's Catholic Church, 45 Fairfield Street, St. Albans, then interment at Holy Cross Cemetery.
The Sheppard family extends our thanks and gratitude to the dedicated staff of Franklin County Rehab for the care and compassion they provided to Maude in her final years.
To view a complete obituary and to offer a message of condolence, please go to our website at www.healdfuneralhome.com.