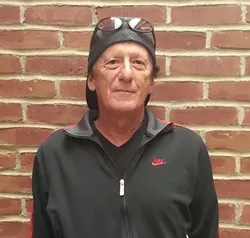 Matthew Henry Young was born on May 1, 1948, in New York City, the son of Leo and Shirley (Stein) Young. He had two sisters, Mandy and Libby. Matt grew up on Long Island, and at age 13 asked to go to boarding school. He went to Blair Academy in New Jersey, where he made lifelong friends, and later graduated from Alfred University with a degree in English.
Matt briefly attended the New England School of Law in Boston, then got a job managing Dom's, a high-end northern Italian restaurant on Commercial Street. It was a move that changed the course of his life. Matt had been fascinated from an early age by what was happening in the kitchen, and had long wanted to run a restaurant. He stayed at Dom's for seven or so years.
Matt finally opened his own restaurant, the Ocean Club, on Martha's Vineyard in 1979. Influenced by the cuisine at Dom's, his place became famous for its innovative gourmet food. It was also the go-to cool spot, frequented by locals as well as the island's famous summer residents, including Lillian Hellman, John Belushi, Carly Simon, Jackie Onassis, William Styron and many others. Going to the Ocean Club meant having a good time — some said it was "like an event" — and the restaurant became legendary. Matt was the designer of it all.
In 1985, some investors approached Matt asking him to open a second restaurant. And he did: the Cambridge Ocean Club in the Charles Hotel. During the time that he ran it, a local magazine named Matt one of Boston's 100 most eligible bachelors.
But flying back and forth between the two locations became too much. And back injuries derailed Matt twice. According to his family, Matt had always said that if things got too complicated in his life, he would move to Vermont. (He had worked at a summer camp in Marlboro and had fond memories of the Green Mountain State. Plus, at the Ocean Club he had met some fun-loving girls from Burlington.)
In 1989, Matt arrived in Vermont with an offer to manage a restaurant. Instead, he took a job bartending at another one. Soon, this bachelor would meet the woman who captured his heart, Sheryl Bellman. They soon became inseparable. The year they both turned 50 — in 1998 — they decided to get married. Sheryl suggested that Matt get a job at VocRehab, because he could teach people how to work. A professional degree was unnecessary: As Matt liked to say, nothing trains you better for social work than being a bartender.
Then, he moved on to a psychiatric hospital diversion program and excelled at it. He did it the way he did everything: very nicely. He liked to cook for people and become close to them. When the Howard Center received a grant to open a shelter, Matt worked there for several years.
In 2000, he was hired to start and lead a Street Outreach Team to deal with myriad problematic behaviors in downtown Burlington. For the next 16 years Matt worked tirelessly, out on Church Street nearly every day regardless of weather. He handled social problems at the most basic street level: He developed trusting relationships, engaged the disenfranchised, helped people in need, and set some standards of behavior on the Marketplace. He did this with patience, grace and style.
Matt's significant career shift to social services changed not just his own life but the lives of many in Burlington. Over his years in the restaurant business, he had learned how to talk to anyone and everyone, and that gift served him well on the street. He navigated the social strata of downtown, from the homeless and mentally ill to merchants and store employees to police and his coworkers. He formed genuine relationships with people from whom others often turned away. They could always count on him to be there. Matt could be tough, but he was also kind, honest, witty, wise and generous — a role model for the others who would join him on the Street Outreach Team.
The Street Outreach program became nationally known and was replicated in other cities. Matt earned multiple awards for his services — including a 2009 United Way Community Impact Award. On behalf of his team he accepted the Coveted Badge Award from the Burlington Police Department in 2014 for "significant contributions to the safety and wellbeing of the Burlington community."
Aside from his job, Matt loved good food and wine, and made a wonderful linguine alle vongole, among other dishes enjoyed by family and friends. He was a devoted Patriots fan. He also loved playing golf and going to Jamaica for vacation every winter, which he did with Sheryl for 22 years.
At age 68, Matt passed on Thursday, March 23, of complications from melanoma.
He is survived by his loving partner of 27 years, Sheryl Bellman; his stepson, Max Blasdel, and his fiancée, Rachel Ann Fealk, of Portland, Ore.; sister Libby Warren and her husband, Kenneth, of Merrimac, N.H.; sister Mandy Heller and her husband, Dick, of Newton, Mass.; brothers in spirit Richie and Paul Garcia of Martha's Vineyard; and many, many friends in Vermont, Martha's Vineyard and Negril, Jamaica.
A paving brick on Church Street is dedicated to "Matt Young, a friend to all." He was a rock star to many, who will miss him terribly.
Donations can be made in Matt's honor to the Howard Center Street Outreach Team, 208 Flynn Ave., Burlington, VT 05401. Howard Center is planning a memorial service for Matt next month; details will be announced soon.