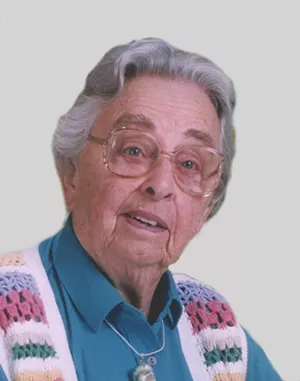 Mary S. Babcock, age 97 years, a well known Swanton educator since 1953, died late Wednesday afternoon, October 2, 2013, at the Northwestern Medical Center with devoted family and friends at her side.
Born in Princeton, Mass on, February 5, 1916, she was the daughter of the late Lucius J. and Harriet (Wilson) Shepard. On March 25, 1944, she was married to Luther C. Babcock who predeceased her on February 18, 1978, following 34 years of marriage.
Mary has dedicated her life to public education as both a teacher and administrator. She received her early education in Princeton and Worcester, Mass, continuing at the Gorham, Maine Normal School and received both her Bachelor's and Master's in Education from the University of Vermont. She accepted her first teaching position in 1937, a one room schoolhouse in South Walden, Vermont where she taught 25 students in grades one through eight and in return was compensated with an annual salary of $700.00.
In 1943 Mary temporarily put aside her teaching duties to faithfully serve her country in the United States Navy WAVES during World War II.
In 1953 Mary assumed a new teaching position as a teacher at the Swanton Central School. She so impressed the local school board with her capabilities that she was selected to serve as both the principal, and later, the assistant elementary school principal. She has been honored as Teacher of the Year in the Franklin Northwest Supervisory Union and in 1990 the Swanton community paid its highest tribute, when the Swanton Elementary School name was changed to the Mary S. Babcock Elementary School. She has served as a public school teacher and administrator for 53 years, the longest ever in Vermont and has attended 76 years of fall school openings. Since her retirement she continued to volunteer two days a week at the school.
Since her retirement Mary has devoted her time to church and community activities. She has been a longtime member and Deacon of the Swanton Christian Church, served many years on the board of trustees for the Swanton Public Library, was a member of the Vermont and Franklin County retired Teachers