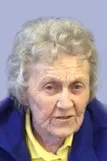 Mrs. Mary P. Rowell, age 86 years, died Sunday afternoon August 23rd, 2015, in St.Albans, Vt., at the Franklin County Rehabilitation Center with loving family at her side. Mrs. Rowell and her beloved husband Willard lived for many years in the Fairfax community, following the onset of health issues they made their home near family in Highgate Falls. Born in Fairfield, Vt. April 21'st, 1929, Mary was the daughter of the late Ralph Sheridan McGue, and Harriet (Clay) McGue. She graduated High School from Mount St. Mary's in Burlington, class of 1947. On Oct. 20'th, 1951, she married Willard Rowell, of Albany, Vt., a young gentleman who had studied at Champlain College. The young couple wanted their own farm, and hoped to raise a family. Mary and Willard later owned and operated a sizeable dairy farm in Albany, Vt., where they raised a family of six. During years of lean milk pricing, Willard frequently worked construction on oil and gas pipelines to supplement farm income. Mary was then charged with managing farm operations and addressing family needs, often for months at a time, she was a tireless worker, had great compassion for others, and proved herself many times as a well seasoned business manager. During the late 1970's Mary and Willard moved to Fairfax to care for family, and eventually purchased her parents home there. Mary had a discerning eye for fashion and her home was beautifully furnished, she bought and sold antiques for many years, and with a smile would tell you," it had its rewards". While the barn sale seemed to pique her interest, it was the people she most enjoyed. Perceived as an opportunity, gardening offered a tranquil moment, her beautiful flower gardens and vegetables were always nicely tended. Mary was proud of her family, she was a wonderful cook, and enjoyed large family gatherings; she was an avid reader, found board games, cards, and puzzles enjoyable, but most of all Mary was a kind person, she was a devoted wife and loving mother.
Mrs. Rowell was predeceased by Willard, her husband of nearly 60 years, she leaves her six children, Bill and Nancy (Rollins) Rowell of Highgate, Brian and Tammy (Pilbin) Rowell of Highgate, Steven and Carmie (Maietta) Rowell of Hinesburg, Jane (Rowell) and Chuck Fisher of Irasburg, Carolyn (Rowell) and Stephen Powers of Anderson, S.C., John and Tina (Reicker) Rowell of Saint John, N.B.; grandchildren, Elizabeth, (Andrew); Matthew, Megan; Michael, Anthony, Emily, (Jenoah); Anna, (Craig); Patricia, (Nathan); Jennifer; Nikki, (John), Kristina, (Robbie); Joshua, and Jenna; greatgrandchildren, Peyton, Xavier, Landon, Derek, Myles, Charlie, Hayley, Asa, Jonathon, and Julia; one sister Kathleen (Thomas) Bott of Plainville, Ct.; as well as several nieces, nephews, and cousins. She was predeceased by her sisters Elizabeth Jacobs of Fl.; Carol Sheridan of Ct.; Marguerite Chambers of Tx.; and her infant brother Patrick McGue of Fairfax.
The Rowell family would like to offer their gratitude to the caregivers at Mary's residence, Franklin County Home Health, Northwestern Medical Center, Franklin County Rehabilitation Center, Am Care, and Missisquoi Valley Rescue for their care, compassion, and support. A funeral service will be held on Friday, August 28, 2015, at 8 p.m. from The Kidder Memorial Home, 89 Grand Avenue, Swanton. Father Maurice J. Roy will officiate. Friends are invited to call at the funeral home on Friday from 6 p.m. until the hour of the funeral. Interment will be at the Rowell family lot in the Albany Village Cemetery, a graveside service will be held on Saturday, August 29, at 11 a.m. The Reverend Nathan Strong will officiate. Friends wishing to attend are invited to do so, a luncheon following the service will be offered by our friends at The Albany Methodist Church.
Gifts in Mrs. Rowell's memory may be made to Missisquoi Valley Rescue, P.O.Box 22, Swanton, Vt. 05488. To offer private online condolonces please visit: www.kiddermemorialhome.com