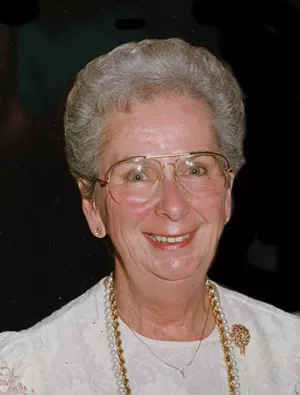 Mrs. Mary Elizabeth Liegey, age 90 years, died early Tuesday morning December 3, 2013, in the Franklin County Rehab Center.
Born in Flushing, NY on August 24, 1923, she was the daughter of the late John L. and Mary E. (Smith) Howrigan. She graduated from Jamaica High School and later received her degree as a Registered Nurse from the Mary Immaculate School of Nursing in Jamaica Queens, NY. On August 8, 1969, she was married to Gabriel M. Liegey Jr., who survives her.
In her earlier years she worked for a time at the Mary Immaculate Hospital, later working for 20 years as head nurse for the General Motors Corporation. Following her retirement from General Motors she continued as a hospice nurse for Westchester County.
Following her marriage to Gabriel, they together lived in Freeport on Long Island, Granite Springs, NY for 28 years, on Cape Cod for nine years and for the past four years residing on Mountainview Drive in Swanton, VT.
Survivors include her husband of 44 years, The Reverend Mr. Gabriel M. Liegey, Jr. a permanent Deacon assigned to the Roman Catholic Diocese of Burlington; her sisters-in-law and brothers-in-law, Sr. Mary Liegey, SC, Sr. Veronica Liegey, SC, Bernadette Liegey, Hilaire Liegey, Sr. Christine Liegey, PVBM, and Michael, Francis and Gregory Liegey as well as many nieces, nephews, cousins and good friends.
Besides her parents she was predeceased by two brothers, John and Joseph Howrigan.
The Liturgy of Christian Burial will be celebrated Friday December 6, 2013, at 11 a.m. from St. Mary's Roman Catholic Church, (Immaculate Conception Parish), 45 Fairfield St., St. Albans City. Father Maurice J. Roy will be the celebrant and Mrs. Liegey's husband The Reverend Mr. Gabriel Liegey the homilist. Concelebrating will be Fathers Leonidas B. Laroche and Thomas D. Nadeau. The Rite of Committal and Interment will take place in the Spring at St. Patrick's Cemetery in Fairfield Center.
Friends may call at The Kidder Memorial Home, 89 Grand Ave., Swanton on Thursday from 4 to 8 p.m.
Gifts in Mrs. Liegey's memory may be made to Holy Angels Parish, 246 Lake St., St. Albans 05478.