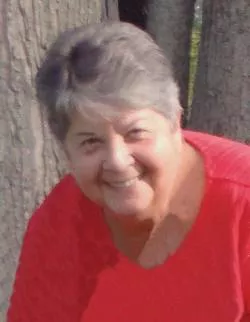 St. Albans – Mary Elizabeth Gebo a lifelong resident of this area, passed away Sunday, December 17th, 2017, at home with her loving family at her side.
Mary was born on January 15th, 1939, at home on the Mill River Road, one of nine children to the late, Edmund and Roseanna (Morin) Brier. Mary was 78 years old.
On December 19th, 1969, in St. Albans, Mary married Donald E. "John" Gebo, Jr. who survives her. They would have celebrated their 48th anniversary today.
Mary graduated from Bellows Free Academy. For 11 years she worked at the former Union Carbide Co., followed by several years as a Pharmacy Technician at Brooks Pharmacy. She was a longtime communicant of Holy Angels Parish.
She is survived by her loving husband, John of 48 years; their 2 daughters, Tina Rivers and husband, Michael, Pamela Scott and companion, Alain Gauthier; her grandchildren, Amy Richard and husband, Joe, Brandon Betournay, Sabrena Betournay and companion, Michael, as well as her great- grandchildren, Jacob and companion, Sierra, Mikayla and Kyler.
Mary is also survived by her siblings, John Brier and wife, Linda, Robert Brier and wife, Denise, Steven Brier and companion, Penny, Jeannette Hoffman and husband, Jim, Theresa Menard, and Susan Garrow and husband, Bob, and several nieces and nephews.
In addition to her parents, Mary was preceded in death by brothers, Joseph and Kenneth Brier and brother-in-law, Furman Menard.
A special thank you to, Gloria Brown, Pam and Larry Rocheleau and Lynn McMorrow for their love and support.
Family and friends will honor and remember Mary's life by gathering for calling hours on Thursday, December 21st, 2017, from 6:00 to 8:00 PM at the Heald Funeral Home, 87 South Main Street, St. Albans.
A Mass of Christian Burial will be celebrated on Friday, December 22nd, 2017, at 11:00 A.M. in Holy Angels Catholic Church, 245 Lake Street, St. Albans with the Reverend Maurice J. Roy as celebrant. Interment will be next spring in St. Anthony's Catholic Cemetery in Sheldon.
Those planning an expression of sympathy are asked to consider the Jim Bashaw Fund, c/o Northwestern Medical Center, Community Relations Office, 133 Fairfield Street, St. Albans, VT 05478 or the Hospice Program of Franklin County Home Health Agency, 3 Home Health Circle, St. Albans, VT 05478.
To send Mary's family a written expression of sympathy or share a memory, please go to her on-line guest book at www.healdfuneralhome.com.