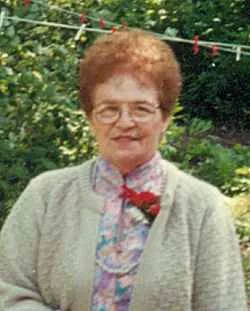 Mary B. St. Pierre a longtime resident of this area passed away at her home on Saturday, October 8th, 2016, with her son, David and his wife, Donna, and friends at her side.
Born in Franklin on April 28th, 1924, Mary was the daughter of the late Hubert and Rose (Bourgeois) Smith. Mary was 92 years old.
Mary and her family operated a farm in Fairfield for many years. She was also employed as a housekeeper at both the Cadillac Motel and Econo Lodge. Later, she worked at Price Chopper and the St. Albans Messenger. Mary was a longtime communicant of St. Mary's Roman Catholic Church in St. Albans. Her greatest enjoyment was her home.
Survivors include her son, David St. Pierre and his wife, Donna, of St. Albans; her sister, Eva M. Rheaume of Georgia; brother-in-law & sister–in-law, Wilfred and Doris St. Pierre of Fairfield and many nieces, nephews, great nieces and nephews and great-great nieces and nephews.
In addition to her parents and husband, Walter J. St. Pierre on October 30, 1990, Mary was pre-deceased by her 2 sons, Robert A. St. Pierre on September 29, 1964 and Roger H. St. Pierre on February 8, 2006, and her sisters, Helen Smith, Alice Desrochers, Virginia Desrochers and Noella Raymond, as well as her brothers, Joe, Noel and Leon Smith.
Relatives and friends are invited to attend calling hours on Friday, October 14th, 2016, from 2:00 to 4:00 and 7:00 to 9:00 PM at the Heald Funeral Home, 87 South Main Street, St. Albans.
A Mass of Christian Burial will be celebrated on Saturday, October 15th, 2016, at 11:00 A.M. at St. Mary's Roman Catholic Church, 45 Fairfield Street, St. Albans. The Reverend Joseph Ikegbunam will be the celebrant. Interment will follow in the family lot in Mount Calvary Cemetery.
As an alternative to flowers, memorials may be made to the American Cancer Society, Vermont Chapter, 55 Day Lane, Williston, Vermont 05495.
To send Mary's family a written expression of sympathy, please visit our on-line guest book at www.healdfuneralhome.com.