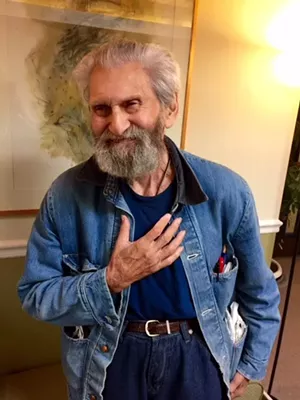 Martin Levitt died peacefully November 1, 2017, at Ethan Allen Residence in Burlington, Vt., his home for the past three years, surrounded by the loving kindness of staff and residents.
Born February 2, 1926, in New York City, Martin was the only child of Sara (Hollander) Levitt and Samuel Levitt. Proud to be descended from Russian Jewish artists and designers, Martin attended the Art Students League of New York and studied with noted sculptor Jose De Creeft. As an artist and designer, he produced and collaborated on paintings, prints, books and sculptures in a range of media; he was skilled in printing techniques including lithography and letterpress. His art-filled books include Poems From the Japanese, held in the Museum of Modern Art collection, Oriental Poetry Illustrated and No Single Thing Abides. He was affiliated with the No!art avant-garde movement in New York. Martin's career in art education included several years at the Greenwich (Ct.) Country Day School, where he taught graphic arts. He also worked for a time in the local and international transport and escort of wild and domestic animals; he had an enduring gift with animals. During World War II, Martin served in the U.S. Army and, in 1948, the Israeli Army.
Having moved to Vermont in his later years, Martin, who had been divorced, met Margery Glass, a widow, in 2008. The pair became devoted companions, spending many contented hours exploring country roads, walking along the waterfront or deep in conversation while Martin sketched an infinite diversity of tiny profiles, both human and animal. Martin was a welcome presence among Margery's friends and relatives, enlivening gatherings and outings. Over the years, Martin, his beloved Margery and her daughter, Anne MacLeod, became as close as family.
In addition to his artistry, Martin will be remembered for his forthright manner, witty repartee and appreciation for the beauty of all living things. He lived simply yet brought a discerning eye to the world around him. He took delight in noticing a shadow playing along a wall, the leaves of a tree shimmering in the wind or the last rays of the sun setting over Lake Champlain. As a boy, he liked to sneak into opera performances; late in life, the music of Bach still sent him into a reverie. Martin's character fused the healthy ego of a brilliant mind and a rare humility; his generous compliments and heartfelt thanks were freely given, to the end. Even as dementia came to affect his mind, he was unfailingly positive. Asked to name the best time of his life, he responded without hesitation: "Today!"
Martin had two children, Richard Levitt and Alice Levitt. He is survived by a special aunt, Peggy (Mrs. Ralph) Hollander of Martinsville, Va.; two Hollander nephews and one niece; and many friends, including Margery Glass of Burlington, Vt. and Anne MacLeod of Winooski, Vt. Thanks are due to Doris Angiono; Amelia Gerlin, MSW; Emily Rossheim; Bayada Hospice; Ellen Watson, APRN; Cathedral Square; and to the extraordinary staff at Ethan Allen Residence. All went above and beyond in friendship and support.
Friends and family are invited to remember Martin at a small gathering planned for December 10 at 3 p.m., at the Sunset Ballroom at Comfort Suites in South Burlington.
Donations in Martin's name can be made to Ethan Allen Residence (ethanallenresidence.org).