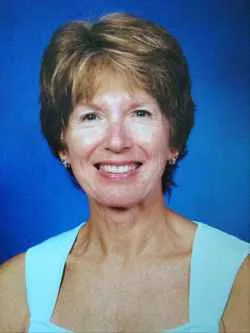 Marlene Frances (Ames) Hancox
Marlene Frances (Ames) Hancox passed on Tuesday January 12, 2016, with her family at her side. Born December 18, 1946, in Sweetsburg, Quebec, she was the daughter of the late Lennox and Kathleen May (Smith) Ames. Marcy grew up across from Butler Elementary School, in Bedford, Quebec where classmates would frequent the Ames' back patio and their gardens. She grew up enjoying camping trips with her family in the summer.
Marcy was a graduate of MacDonald College in Quebec where she earned a degree in teaching. While doing her student teaching, she met Stanley George Hancox who was enrolled at MacDonald too. They shared a love for teaching as well as golf and curling. Stan and Marcy married June 28, 1969 and decided to move state side to pursue their teaching aspirations.
Stan and Marcy Hancox moved to St. Albans, Vermont in 1969 where they both began their teaching careers at St Albans City School. The couple built a home in Georgia, Vermont and continued raising their daughters, Kristy Lee and Jodi Michelle. Marcy took a teaching position at Georgia Elementary School.
GEMS became Marcy's second family and she devoted several years to the Franklin West Supervisory Union. Marcy always embraced being a learner as well as a teacher. She continued her education at the University of Vermont. She enjoyed creative and expository writing and took pleasure in interdisciplinary teaching with her GEMS colleagues.
Marcy served as representative to the NEA, chaperoned numerous dances and proms, facilitated memorable trips to Quebec City and Paris, France and was named teacher of the year in 1986. Yet, her favorite accomplishments weren't awards or certificates; the impact of the relationships she forged with staff and students were most significant to her.
Though a Vermonter by address, Marcy's roots were firmly Canadian. She was always keen on taking a shopping trip to St. Jean, or traveling throughout Quebec and Ontario either to visit friends and family, or just for weekend adventures. She was a member of the Border Curling Club in Stanstead and a former member of the United Church of Bedford.
After retiring from the public school system, Marcy pursued a rewarding career as a full time "Mimi" to Levi, Sylas, Sawyer, and Brody Boutin.
Trips to Ogunquit, Maine in spring; summers at the cottage on Lake Salem, and winter family gatherings at Smuggler's Notch in Jeffersonville were highlights for the entire Hancox family. Marcy always enjoyed a rousting game of Cribbage or Apples to Apples; a quick kayak paddle, or a brisk walk.
These traditions will be carried on by Marcy's husband of 46 years, Stanley Hancox; by her daughter Kristy and son in law, Jeremy Boutin, their children Sawyer and Brody; and by her daughter Jodi and son in law Jason Trask, and their children, Levi and Sylas.
In addition to her parents, Marcy was preceded in death by her Uncles George, Harold, and Thomas.
Relatives and friends are invited to attend calling hours on Tuesday, January 19, 2016, from 3:00 to 5:00 PM at the Heald Funeral Home, 87 Main Street, St. Albans with a social hour to follow from 5:30 to 8:00 at 14th Star Brewery, Main Street, St. Albans.
A private graveside service will be held later this spring at the family lot in the Stanbridge Ridge Cemetery in Stanstead, Quebec.
In lieu of flowers, memorials may be made to the Franklin County Animal Rescue, 30 Sunset Meadows, St. Albans, Vermont 05478 or to a local charity of one's choice.
Messages of condolence to Marcy's family are welcome at www.healdfuneralhome.com.