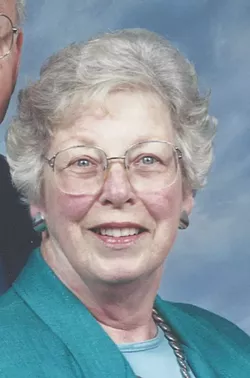 Marilyn Mason DeWees, 86, died peacefully in her home in Stowe on Saturday, November 12, 2016. Marilyn was born May 8, 1930, in Philadelphia, the daughter of Philip Mason and Wilma Eschelman Resh Mason.
She is survived by her daughter, Holly DeWees of Albuquerque, New Mexico; her son, Rusty DeWees of Elmore; her niece, Linda Pancio of Philadelphia and Linda's family; Bruce, Lauren, Danielle and Jim and Linda DeWees Wesler and Donna DeWees of Pennsylvania; along with the many friends whom she cherished. Marilyn was predeceased by her husband of 51 years, William (Bill) DeWees in 2005 and her beloved cats, Henry, Harold, Herbie and Charlotte.
Marilyn moved to Stowe with her husband, Bill, and children, Holly and Rusty, in 1968 where she became a longtime fan and supporter of the Stowe community and Lamoille County. She was the business manager of the Stowe Reporter for 30 years; a Stowe High School booster; a member of the Stowe Community Church, where she volunteered as a Sunday school teacher and youth leader; worked part-time at Wood 'N Wicker and Lasak Silver; and became an eventual active member of the Elmore United Methodist Church.
After Bill died, Marilyn's greatest joy came from gathering and chatting with folks in and around her community, as she never met a stranger. Marilyn and her best pals, Maureen Urell and Kathy Raijki, spent every evening together laughing and kibitzing about the latest and greatest. She also loved visiting and hanging out with Holly in the sunny Southwest and following Rusty's shows all over Vermont and New England, where she often ad-libbed back and forth with Rusty from her audience seat. Her latest show-business credit was writing and starring in a television ad for Aubuchon Hardware that is presently running.
Funeral services will be held Saturday, November 19, at 11 a.m at the Stowe Community Church. Faith Funeral Home is assisting with arrangements. A private interment will be at the convenience of the family in the Wheeler Cemetery in Morrisville. Online condolences may be made by visiting faithfh.net.