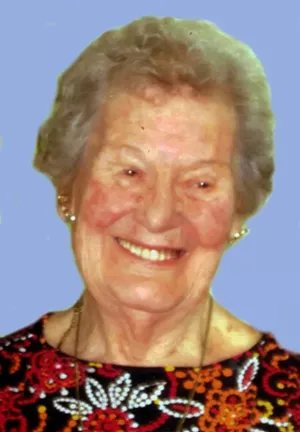 A memorial service for Marilyn (Lyndy) Foster, a long-time resident of Swanton, will be held at 1PM Thursday, May 7 at United Methodist Church in Swanton.
Lyndy passed away Friday, May 1, 2015 at the St. Albans Health and Rehab Center. She was born on June 3, 1920 in Long Beach, California, the daughter of Harold and Jean Hamilton Fulton Shutt. In 1937, Lyndy boarded a luxury ocean liner and headed to Honolulu, Hawaii to marry Navy radioman
Richard (Richie) Foster, on July 3. They were married for 60 years, until Richie's death in 1997.
A lifetime lover of books, Lyndy served as the librarian at the Swanton Public Library for 17 years, where she started the first children's story hour and the book-bag program for housebound seniors. Lyndy was a talented artist and over her lifetime—even into her last weeks— painted and sketched many beautiful works of art, from landscapes to grandchildren. One of her greatest joys was to gather the whole family around her big dining room table for celebrations.
Lyndy was a member of the United Methodist Church in Swanton, the Golden Rule Circle of the King's Daughters, and the Eastern Stars. In her role as Swanton librarian, she inspired the Kings Daughters to support the formation of a historical society in 1984 after speaking at a meeting on "Books and History," then became one of the initial directors and incorporators of the Swanton Historical Society.
She is survived by her five children: Sandra (Charles) Kramer, Alta Loma, CA, Sharon Rich, Concord, NH, Kathy (John) Giroux, Franklin, VT, Richard (Christine) Foster, Stannard, VT, and Dena Foster, Montgomery Center, VT; 13 grandchildren: Tom Crowley, Jim Crowley, Karen Crowley, Christopher Rich, Jason Rich, Wendee Heitz, Jody Giroux, Carrie Kleinfelter, Brady Giroux, Robert Foster, Abigail Foster, Gabriel Foster, and Max Dentone; and 22 great-grandchildren.
In addition to her husband, Lyndy was pre-deceased by her sister, Lou and her brother, Donald.
A private internment will take place prior to the memorial service.
In lieu of flowers, contributions may be made to the Swanton Public Library.
To offer private online condolences please visit: www.kiddermemorialhome.com