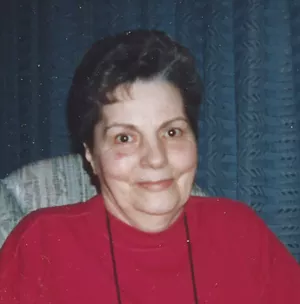 Marie D. Bailey, 77, of Island Pond, VT, passed away from natural causes during the early morning hours on October 22, 2014, at the home of her daughter, Jennifer Hanlon, where she had lived with her son-in-law Thomas and granddaughter May, since 2011. Though she moved to Vermont late in her life, she always said she was proud to be a Vermonter, and especially enjoyed all things maple. She enjoyed summering with her family on the St. Lawrence River in Ogdensburg, NY, and this past summer spent two very relaxing months "on the river" there with her beloved sister Judith and brother "Buzz".
Marie Gertrude Derenberger was born July 3, 1937, in Tracy, Minnesota. She was the daughter of Floy Mae Derenberger and William Derenberger. She was predeceased by her parents and older sister Wilburna Derenberger Giglio and brother Sgt. LeRoy Derenberger.
The Derenberger family moved to Ogdensburg, NY in 1940. Marie was a graduate of Ogdensburg Free Academy Class of 1955, graduate of St. Lawrence School of Nursing Class of 1958 and received her B.A. at Plattsburgh State University. She embarked upon her nursing career with the American Red Cross, followed by service at the Veterans Administration in Syracuse New York and as a school nurse in Peru, NY. She also was employed in the AuSable Valley School District for several years as a school nurse. She will be remembered by many for her gentle, compassionate spirit and her dedication to nursing and caring for those around her.
It was at Peru Central School that she met a teacher, George Arthur Bailey, of Keeseville, NY, whom she married in 1964. Though their marriage was short lived, she remained in the Keeseville area for many years, supporting her children and always opening her door to them and their friends. She is survived by their four children: Jennifer, and her husband Thomas Hanlon and granddaughter May Marie, of Island Pond, VT; Jeffrey Bailey, of Keeseville, NY, Suzanne and her husband Bret Leonhardt of Kernersville, NC, and grandchildren Kyle, Ansley, and very specially loved grandson Seth; and Sara and her husband Jude Perkett of AuSable Chasm, NY, and grandsons Ledge, Keene, Chasm, and Ridge.
Marie had many lifelong friends, including her beloved sister-in-law Mary Bailey, of Port Kent, who was like a second mother to her children. Many people often thought Mary and Marie were sisters or even the same person, since they were often seen with the same set of children. She also had life-long friendships with Bernadette (Morrow) Kolonski and Barbara Wylie. She is survived by siblings William Derenberger of Moravia, NY and Judith Derenberger of Winter Haven, Florida, along with her niece and Goddaughter Cathy Giglio and several nieces, nephews, and their families. During her lifetime she was referred to as "Sis" by her siblings and by those in the Ogdensburg region.
Marie enjoyed working on crossword puzzles, and enjoyed sharing recipes, cooking and eating tasty food. She was an avid fan of the Enquirer and other tabloids, and could spend hours watching crime dramas on television. When she came to Vermont she began surfing the internet and communicating via email. She was always interested in current events on the local and national level, and always was sure to vote. Marie always had a strong faith in the Lord, and always found a reason to laugh and smile every day.
At her request, there will be no calling hours, and cremation will be provided by Curtis Britch Converse Rushford Funeral Home. An informal memorial dinner with her family will be held on November 8 in the Plattsburgh, NY area, and the interment of her cremains will take place on Memorial Day, 2015, at the family plot in Ogdensburg, NY, at the convenience of her family.