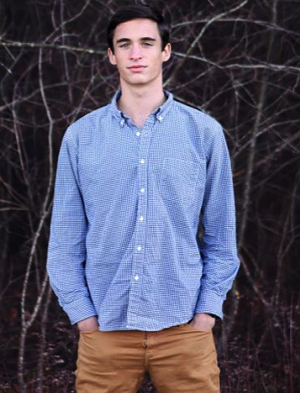 Malcolm Ellis Plunkett, 25, of Starksboro, Vt., died unexpectedly on Tuesday, May 12, 2020. Malcolm attended Robinson Elementary School in Starksboro and Lincoln Community School in Lincoln, followed by Mount Abraham Union High School in Bristol through his sophomore year. Malcolm graduated from South Burlington High School in 2013 as a member of the National Honor Society. He completed two years of study at the University of Wisconsin, Madison, where he was a part of the prestigious UW cross-country team and planned to major in economics and English.
As most anyone who knew him can attest, one of Malcolm's greatest passions and natural talents was running, which he pursued with determination, courage and a spirit of camaraderie. In his junior year, Malcolm was named the 2011-12 Gatorade Vermont Boys Cross Country Runner of the Year, which recognized both his athletic achievement and his strong academic record. That year he also earned the title of Vermont cross-country state champion in the 5K event, for which he still holds the state record with a time of 16:56. His personal record for the 5K is 15:50, which he ran in Manchester, N.H., in 2012. He was also a two-time indoor track state champion in both the 1600 and 3200 meters. Most recently, Malcolm ran the 2019 Brooklyn Half Marathon, which he entered on the spur of the moment after a long hiatus from training, and which he finished, seemingly effortlessly, in the top 15 percent of more than 26,000 participants.
Malcolm was known for his goofy, animated and unrivaled sense of humor; his boundless charisma; and his innate sensitivity and ability to engage with others. He was a voracious reader and incisive writer (winning the VFW Speech Award in 2012) and had a deep appreciation for music and for artists. He was also a notorious loser of phones, lover of chickens and diehard consumer of hot sauce.
Malcolm leaves behind his mother, Ruth Polishuk, and his three sisters: Joanna (and her husband, Theo, and daughter Alice), Izzi and Olivia, his twin. He was predeceased by his father, John Plunkett, in 2014. Malcolm will be fondly remembered, deeply loved and sorely missed every day.
Plans for a formal memorial are pending due to the COVID-19 pandemic. In the meantime, folks are invited to share memories, words, photos and/or mementos (via Olivia Plunkett, 1002 Jerusalem Rd., Bristol, VT 05443 or oli.may.plunk@gmail.com), to be compiled into a virtual memorial for Malcolm. In lieu of flowers, please consider making a donation to an organization that supports the LGBTQ+ community, mental health or addiction recovery, such as the Center in New York City (gaycenter.org/recovery-health/recovery), Outright Vermont (outrightvt.org) or the National Alliance on Mental Illness (nami.org).