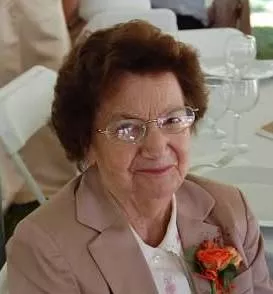 Mrs. Madeleine Boudreau passed peacefully on July 5, 2016, surrounded by her family. She was born on June 4, 1931 in St. Sebastien, PQ, Canada. She was the daughter of Herve' and Jeanne (Vigeant) Breton. She married her lifelong love Jacquelin "Jack" Boudreau on October 26, 1950. Together they raised seven children. She will greatly missed by Norman Boudreau and his wife Lauri, Andre Boudreau, Carol Parks and her husband Richard, Allen Boudreau, Luke Boudreau and his wife Tina, Leon Boudreau and his wife Cheryl, and Alisa Aylward and her husband Craig. She is also survived by her loving grandchildren, John and his wife Shay, Jacques, Jacqueline, Samuel, Zachary, Nicholas, Hollie, Gabriel, Elizabeth, Garrett, Jared, Andrea, Noah, Hailey, Amelia, and a great-grandson Henry. She was predeceased by her parents, her husband and her siblings Therese, Jacqueline, Marcel, and Rita. She is survived by numerous relatives in Canada.
She was a well-loved member of the St. Albans community. She was a member of the Ladies of St. Anne, the VFW Auxiliary, the Holy Angels Mothers Club, and was an active hockey and figure skating parent who loved to watch her children and grandchildren participate in numerous activities. She was an avid gardener, and in her later years could often be found at the Farmers Market in Taylor Park.
We would like to thank our mother's wonderful caregivers, especially Diane Beauregard, for their love and support. We'd also like to thank the staff at Pillsbury Manor and Our Lady of the Meadows for the wonderful care they provided.
A Mass of Christian Burial will be celebrated Friday, July 8, 2016 at 11:00 AM in Holy Angels Church. Interment will follow in the Boudreau family lot in Mount Calvary Cemetery. The family will receive condolences on Thursday, from 4:00 to 8:00 PM, in the Brady & Levesque Funeral Home, 86 South Main St., St. Albans. Memorials may be made to the Alzheimer's Association of Vermont, 300 Cornerstone Drive, Suite 130, Williston, VT 05495. Online condolences may be sent to her family at the funeral home website: www.bradyandlevesque.com. Arrangements are entrusted to the Brady & Levesque Funeral Home and Commemorative Services.