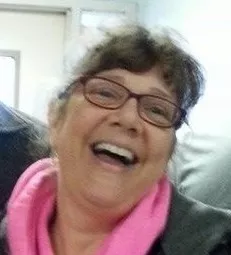 Mrs. Lynn Marie (Soucy) Richardson, 52, of Fairfield, lost her courageous 5 year battle of cancer on December 19, 2016. Lynn was born in Rumford, Maine on October 4, 1964. She graduated from Rumford High School in 1982.
Lynn moved to Vermont in 1987 and was employed by UVM until 2015. She held several positions with UVM. Her last was with the Accounts Payable Department.
Lynn married Mark Richardson in 1988. They resided in Underhill, before relocating to Fairfield.
She enjoyed camping, 4-wheeling, the ocean, the Camp at Roxbury Pond, and the time spent with her family, grandchildren and Russull, Moxie and Sylvie.
Lynn is survived by her husband Mark Richardson, step-daughters Christy Richardson and her husband Aaron Shepard and Jackie Richardson and her husband Justin Pease, her parents, Philip and Sandra Soucy, her sister Sonia Sweetser all of Rumford, ME, her nephews Joel, Zach and his wife Bianca, and Ian Sweetser and her grandchildren Sophie, Jasper, Foster and Hank. She also leaves her mother-in-law Therese Richardson of Port Charlotte, FL, and her brothers-in-law Jim and David and his wife Donna and their children. She was predeceased by her grandparents, her father-in-law Earle Richardson, and several aunts and uncles.
A Funeral of Christian Burial will be held on Saturday, January 7, 2017 at 11:30 AM in the Brady & Levesque Funeral Chapel, 86 South Main Street, St. Albans. The family will receive condolences from 10:00 AM until the time of the funeral. Memorials may be made to the Franklin County Animal Rescue, 30 Sunset Meadows, St. Albans, VT 05478. Online condolences may be sent to the family at the funeral home website: www.bradyandlevesque.com. Arrangements are entrusted to the Brady & Levesque Funeral Home and Commemorative Service.