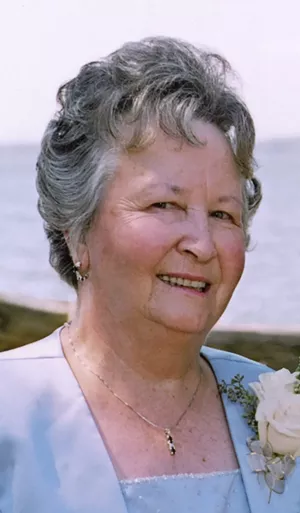 Lucille Gaetane Choiniere
Lucille Gaetane Choiniere, age 81, passed away Wednesday afternoon, November 15th, 2017, at the Holiday House Residential Care Facility. She was born in Saint-Rémi, Québec, September 14th, 1936, the daughter of the late Antoine and Lucienne (De Repentigny) Riendeau. Lucille married Fabio Choiniere on May 25th, 1957, at the Church of the Nativity, Swanton and together they made their home in St. Albans for 60 years. In addition to being a homemaker, Lucille managed the family business, Fabe's Taxi Service, for 30 years. Lucille was a communicant of Holy Angels Parish. She was a member of the Holy Angels Choir, The Ladies of St. Anne, the American Legion Auxiliary Unit #1, and the VFW Auxiliary Unit #758. She enjoyed cooking, gardening, singing traditional Franco-American songs, reading, crocheting and knitting. Memère enjoyed spending time with her grandchildren.
Lucille is survived by her husband of 60 years, Fabio Choiniere of St. Albans, their children, Marc Choiniere and his wife Julie Concannon of Swanton, Bernard Choiniere and his wife Loretta Choiniere of Hudson, NH, and Michèle Choiniere and her husband Christopher Rottler of Burlington, her grandchildren, Samuel, Chantal, Rachelle, Marielle, Joelle, and Isabella. She leaves her brothers and sisters Fernande Benjamin of Fort Myers, FL Gaston Riendeau and his wife Aline of Swanton, VT Alban Riendeau and his wife Susie of Melbourne, FL and Michelle Riendeau of Apopka, FL as well as several nieces, nephews and cousins in Vermont and Québec. She was predeceased by her parents, as well as her sisters Pauline Riendeau, Victoire Riendeau, and Marguerite Boulerice. She also leaves her aunt (Ma tante) Madeleine Beaulieu from St. Remi, Quèbec.
A Mass of Christian Burial will be celebrated Tuesday, November 21st, 2017, at 10:00 AM at Holy Angels Church. Interment will follow in the Choiniere family lot in Mount Calvary Cemetery. Visiting hours will held on Monday, November 20th, from 6:00 to 9:00 PM, at the Brady & Levesque Funeral Home, 86 South Main Street, St. Albans. In lieu of flowers, donations may be made in honor of Lucille to Holy Angels Church, 246 Lake Street, St. Albans, VT 05478, or to Cure PSP, 30 E Padonia Rd, Suite 201, Timonium, MD 21093 or at psp.org. Arrangements are entrusted to the Brady & Levesque Funeral Home and Commemorative Services., where condolences and memories may be shared at www.bradyandlevesque.com.