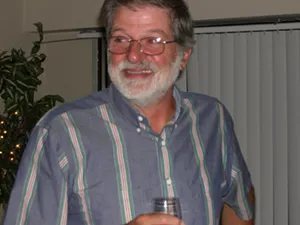 Lou Chiriatti, 78, of South Burlington passed away January 22, 2019. Lou, son of Katherine and Lawrence Chiriatti, was born and raised in Poughkeepsie, N.Y. After graduating from high school, he attended Pratt University, majoring in electrical engineering. Lou worked for NASA in Cleveland and then IBM in Poughkeepsie, N.Y. He moved with the company to Burlington, Vt., in the early 1970s. There he raised his two children, Bruce and Amy, with his wife Carol Feierabend. After the couple divorced, he met his life partner, Randee Bloomberg, in 1979. In his younger years, he was known for some great parties, his motorcycle, and being a good father and friend. His children remember his ability to fix anything and make delicious French toast.
Lou was the ultimate Vermonter, enjoying skiing, sailing, biking and hiking. Lou was most happy on his sailboat on Lake Champlain with Randee and a cold beer. He enjoyed time on the lake and at the Lake Champlain Yacht Club with his many friends. He spent countless hours cycling with his biking club, the Silver Spokes. Lou was an avid University of Vermont sports fan, attending all home basketball and hockey games and lending additional support through his donations.
As a lifelong engineer, Lou enjoyed figuring out how things work and learning about new technologies. During his time at IBM, he worked on chip design. He retired in 2005 at the age of 65.
Lou is survived by his partner of 39 years, Randee Bloomberg; former wife, Carol Feierabend; son Bruce (Rana); daughter Amy (George); brothers Rich (Theresa) and Mike (Judi); and nieces and nephews. He will be missed by the many communities he enhanced with his presence: family, former IBMers, sailing buddies and fellow UVM sports fans. Lou will always remain a strong and positive presence in our lives.
There will be a celebration of Lou's life this coming summer. In lieu of flowers, please consider a contribution to your favorite charity or to University of Vermont Athletics in honor of Lou.