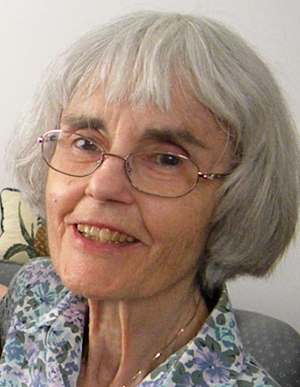 Courtesy Photo
Lorraine Johnson
On November 8, 2020, Lorraine Elizabeth (Bushey) Johnson passed away peacefully in her sleep at the McClure Miller Respite House in Colchester, Vt. Her passing brought to a close the remarkable 90-year journey of a woman who, through her quiet acts of kindness, helped to make the world a better place. A devoted wife, a beloved mother and grandmother, and a friend to all who knew her, Lorraine will be forever missed but never forgotten.
"Rainy" Bushey came into the world on July 6, 1930, at the Fanny Allen Hospital in Colchester, Vt. Her parents, Perley and Charlotte (St. John) Bushey, soon brought her home to their house on Cherry Street in Milton, and Lorraine flourished in the bustling household, joining her sister, Marg, and her brothers Paul, Ken, Arnie and (later) Phil on countless fun-filled adventures. Even at the height of the Depression, Lorraine never wanted for anything, for her family raised their own pigs and chickens and kept their kitchen shelves well-stocked with the bounty from their garden. Lorraine's love of gardening took root during these formative years, as did her love of learning. Her inquiring mind and willingness to work hard helped her excel in her studies at Milton High School, and she graduated as valedictorian of the small but proud class of 1947, remaining lifelong friends with many of her classmates and fellow teammates on the MHS basketball team.
Marriage and motherhood were the next milestones that Lorraine encountered. Shortly after she began studying political science at the University of Vermont, she met the love of her life, Allen Johnson, while out with friends in downtown Burlington. The two married on January 6, 1950, and became parents a year later with the birth of their first daughter, Kathryn. That May, Allen and baby Kathy watched with pride as Lorraine graduated from UVM and received her pin from the Phi Beta Kappa Society. Following the birth of their second daughter, Patricia, the Johnsons purchased a house on North Avenue in Burlington, where Lorraine would live for the next 60 years.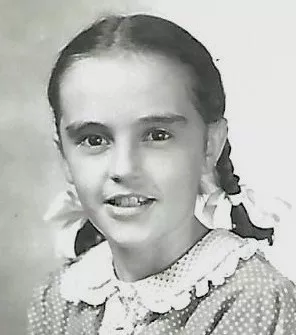 Courtesy Photo
Young Lorraine Johnson
It wasn't long before the Johnson household resembled Lorraine's childhood home: On any given day, one could hear the laughter and play of six children rumbling through the house; the squawk of a radio or the hum of the lathe as Allen tinkered in the basement; and the quiet scratch of a rake and trowel as Lorraine tended to her garden in the backyard. A horticulturalist ahead of her time, Lorraine gardened organically long before the practice became popular in Vermont, keeping her own compost pile, ambushing cutworms at night by flashlight, and lavishing her North Avenue garden and a nearby community garden plot with kelp gathered on family trips to Maine. She encouraged her children to garden and gave them their own plots to tend in the backyard. They (and, later, their children) reciprocated the gesture by helping her reap harvests of raspberries, cucumbers, zucchini and tomatoes, much of which Lorraine gave away to relatives, neighbors and local food shelves. A friendly vegetable-growing competition soon sprang up between her and her brother, Phil, and Lorraine's children quickly joined in on the fun, exchanging snapshots with one another of the best fruits of their labor.
The well-being of a husband, six children, two gardens, and several cats and rabbits rested on Lorraine's shoulders, yet she bore this responsibility with a smile and never once complained. As tight as the household finances were, she never refused her children's request for books when the latest Arrow Book Club flyers came in the mail. As busy as she was, she always made time for her children, listening to their troubles, rejoicing in their triumphs, encouraging them in their studies and kneeling beside them every night to pray with them before bed. In every conversation, no matter the subject, she listened thoughtfully and compassionately, internalizing everything she heard so completely that she could recall previous conversations (sometimes from years before) in impressive detail. In these ways, she made everyone in her life feel important and showed them how important they, their friendship and their happiness were to her.
Gardening and meaningful conversations with loved ones were just two of the many things in life that brought Lorraine joy. She was a loyal fan of the New York Yankees and tuned in to John Sterling's broadcasts whenever she could to cheer on "Mo" and "the Captain." She always had a book going (usually several) and read across the genres, deriving as much pleasure from reading the latest Grisham thriller as she did from rereading Dr. Seuss' Sneetches. Her "love" of lawn flamingos was well-known among her relatives, and a flamingo in some shape or form never failed to make an appearance at her birthdays. More than anything, though, Lorraine enjoyed spending time with her family, whose birthdays she never forgot; whose academic, religious and musical functions she never failed to attend; and whose day-to-day lives were always of interest to her. Her family will never forget that final gathering at Allen Harbor in March, when they shared a meal with Lorraine and set up the slide projector to show her old family photographs of her raising her kids, tending to her gardens, going on family vacations and spending her retirement years with her husband. Lorraine's reactions to these photographs — her smiles, her laughter, her comments about every picture that passed across the screen — showed how fondly she recalled those moments and how close she held those happy, fun-filled memories to her heart.
Lorraine was predeceased by her parents, Perley and Charlotte Bushey; her sister, Marguerite Lyons; her brothers Paul, Kenneth and Arnold Bushey, and her husband, Allen Johnson. She is survived by her brother Philip Bushey and his wife, Aline; her sister-in-law, Nanette Bushey; her three daughters and their spouses, Kathryn and Gordon Cooper, Patricia and Robert Bryant, and Mary and Michael Reardon; her three sons and their spouses, Thomas Johnson and Susan Cooper, Jeffrey and Deborah Johnson, and Jonathan and Meredith Johnson; her grandchildren, Kelly, Laura, Jeremy, Molly, Elliott, Emily, Hannah, Chris, Diana, Jonny, Guthrie, Fiona, Wren and Aidan; her great-grandchildren, Jaron, Emily, Abigail, Zachary, Charlie, Jackson, Mackenzie, Grace, Ruth, Reagan, Josh, Lydia and Eleanor; one great-great-grandson, Brelin; and many nieces, nephews and cousins.
Funeral arrangements for Lorraine have been handled by Boucher and Pritchard Funeral Home. Memorial services will be held at a later point in time. The family wishes to thank Dr. Karen Sokol, the staff at Allen Harbor and the McClure Miller Respite House for the wonderful care they provided Lorraine during the final years of her life.