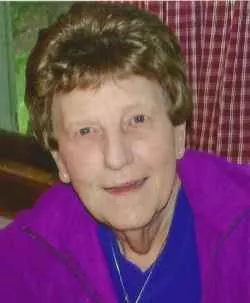 Lorraine A. Bocash, also know as'' Turkey'', born June 29th, 1947, passed away on November 23rd, at 10:50 PM at her daughter's home with her loving family at her side.
Lorraine was born in St. Albans, where she was a devoted day care provider for 35 years. Lorraine also worked as a support worker for mentally challenged clients. She attended schools in the area, graduating from BFA. Lorraine loved singing in the nursing home, along with her friend, Diane Robideau. Lorraine enjoyed playing cards, arts and crafts, singing, and spending a lot of quality time with her family.
Lorraine leaves a son, Rodney T. Bushey Jr. of Fairfield, and grand-daughter, Samara, and two twin grandsons, Shawn and Shane Bushey. Lorraine also leaves a loving and caring daughter, Tina and her husband, Aaron Combs of Richford, along with two grand-daughters, Jenna and Tracy Combs, as well as two great-grandchildren.
Lorraine is survived by her brother, Kenneth Bocash of Sheldon, two sisters, Nancy and Sandra Bocash of Enosburg. Lorraine is predeceased by her parents, Kenneth and Mabel Bocash, two sisters, Emma Jean Thayer and Shirley Hemond.
Lorraine also wanted to thank all her doctors and nurses from UVM Medical Center and Northwestern Medical Center for being the best and most caring professionals. As well as Dr. Wallace and Marty at UVM, along with Dr. Sanders in Colchester, who are the most caring, heartfelt people. Lorraine also wishes to thank all the friends who helped her through the challenge of cancer. Mr. and Mrs. Donald Martin, Mr. and Mrs. Leonard Martin, Mr. and Mrs. Gary Gaudette, Cathy Zweeres, Cheryl Rocheleau, Rita and Jerry L'Esperance, Diane Cushing, Debra Fuller, all her friends at Top's #97.
Lorraine was well loved and will be greatly missed.
Cremation services will be provided by the Heald Funeral Home, 87 South Main Street, St. Albans, where visiting hours will be held on Friday, December 2nd, from 5-7 PM with Father Joseph Ikegbunam of Holy Angels Church conducting a prayer service at 6:30 PM.
To send Lorraine's family a written expression of sympathy, please go to our on-line guest book at www.healdfuneralhome.com.