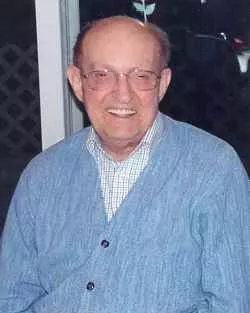 St. Albans/Winooski
Lionel "Lee" Cote passed away peacefully at his home in St. Albans on October 13, 2015, (a very special feast day of Our Lady of Fatima).
Lee was born in Winooski on August 4, 1931, the son of the late Josaphat and Alice (Dupont) Cote.
He proudly served his country in the Army during the Korean War and one year also in the National Guard during the Berlin Crisis.
On September 3, 1955, he married Anita Rochette at St. Francis Xavier Church in Winooski and celebrated 60 years of marriage this year.
Lee was employed as a truck driver for various companies and worked also as a milkman for many years. He treasured his time spent with family and friends, most particularly his grandchildren. Throughout the years he traveled, enjoying many pilgrimages, especially visiting Fatima, Portugal. (Lee had a great devotion to Our Lady of Fatima). In 1974, Lee and his wife Anita co-founded the Vermont Diocesan division of The World Apostolate of Fatima (the Blue Army).
Lee is survived by his wife, Anita, his children and their spouses; Denise and Richard Carter of David City, Nebraska, Anthony and his fiancée, Amy Morrison of Essex Center and Jerry and Kathleen Cote of Davenport, Florida. He is also survived by his dearly loved grandchildren, Jennifer, Adam, Emily, Laura, Grace, Joseph, Maria and Sarah Carter, Melissa and Brian Cote and Liam Cote; two step-grandchildren, Jessica and Jennifer, seven step-greatgrandchildren, his Godchildren, as well as the Morrison children. He also leaves behind many nieces, nephews and in-laws.
Aside from his parents, Lee was predeceased by his eight brothers and his son Jimmy in 1973.
As Lee wished, there will be no visiting hours. A Mass of Christian Burial will be celebrated on Tuesday, October 20, 2015, at 11:00 A.M. at St. Mary's Catholic Church, 45 Fairfield St, St. Albans. Immediately following the Mass, a luncheon will be served at the Parish Hall. After the luncheon, interment with Military Honors will take place at St. Francis Xavier Cemetery in Winooski.
The family wishes to thank everyone for the prayers and support received during Lee's illness…and in particular the wonderful care so lovingly given by the ICU staff, doctors and Concierge volunteers at Northwestern Medical Center.
In lieu of flowers, donations may be made to the Vermont Division of the World Apostolate of Fatima, c/o Yorini Undyantara, 97 Kirby Road, So. Burlington, VT 05403 or to Vermont Right to Life, P.O. Box 1079, Montpelier, VT 05601.
Funeral arrangements are under the care of Heald Funeral Home of St. Albans, where messages of condolence are welcome at www.healdfuneralhome.com.