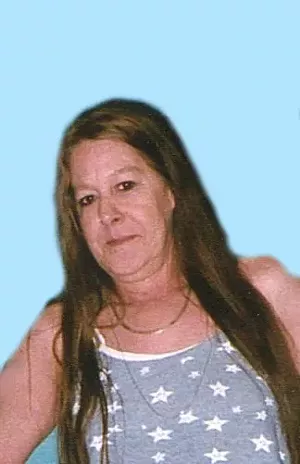 Linda Ann Vincelette, age 58, died in a tragic automobile accident Sunday evening, May 10, 2015, on Maquam Shore.
Born in Branford, Connecticut on, December 14, 1956, she was the daughter of the late Nelson Mitchell and Mary Jane (Lapan) Vincelette. She attended nursing school in Wisconsin and for several years worked as a Registered Nurse. She was a member of Nativity of the Blessed Virgin Mary / Saint Louis Parish and the Abenaki Nation of Vermont. Linda will be remembered as a wonderful cook who loved to sing and enjoyed crocheting.
She leaves her husband, Douglas Colby of Swanton whom she married on, December 25, 2014; three children, Lester Lee Turner of Swanton, Naomi Jean Turner of St. Albans and Margo May Gordon-Heath also of St. Albans; three step-children, Todd, Nicole and Victoria Hemingway all of Highgate; her brother, Joseph Vincelette of Swanton and his children, Raymond, Joseph, James, Richard, Brandie and Brenda Vincelette and a brother-in-law, Randy Colby of Highgate Springs. Also surviving are her grandchildren, Shaylee Turner, Samantha Turner, Chad Cameron, Jr., Austin Robtoy, Eric Wolcott, Jr., Hunter Wolcott and Cierra Heath.
Linda was predeceased by a grandson, Shawn Ellis Turner.
A Funeral Service will be held Friday, June 5, 2015, at 11 a.m. from The Kidder Memorial Home, 89 Grand Avenue, Swanton. Father Luke P. Austin will officiate. The Rite of Committal and Interment will follow in St. Mary's Roman Catholic Cemetery.
Friends may call at the funeral home on Friday, June 5, 2015, from 10 a.m. until the hour of the funeral.
Gifts in Linda's memory may be made to assist the family with a headstone, in care of, Plouff's Monument Company, 26 Swanton Road, St. Albans, 05478.
To offer private online condolences please visit: www.kiddermemorialhome.com