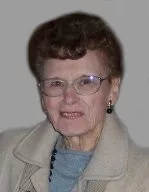 Lillian Lucille "Toots" Hakey
Lillian Lucille "Toots" Hakey, age 90, a lifelong area resident died Friday, December 4, 2015, in the Northwestern Medical Center with loving family at her side.
Born at home in Highgate Springs she was the daughter of the late Henry and Mary Melvina (Tracy) Beyor. She attended the one room school house in Highgate Springs and in 1946, was married to George E. Hakey who predeceased her on, June 30, 2007.
An excellent seamstress Toots worked several years for York Manufacturing and in earlier years for the George Yett Bag Factory. She enjoyed raking, gardening, hunting, fishing and anything that had to do with being outdoors. She was an excellent cook and also enjoyed dancing and skating. Toots always had a great concern for everyone and was always there to care for, or lend a helping hand to anyone in need.
Toots is survived by her son, Bruce Hakey and his wife Carol of Highgate Springs; a very special granddaughter Jamie Ste. Marie her husband Chris and a very special great grandson, Camryn all of Swanton; four sisters, Pearl Wilson, Ruth "Rooster" Rentz, Madeline "Snooks" Bressette and Marie Bell and husband Donald all of Swanton; a brother, Lawrence "Mac" Beyor of Franklin, NH, a very special niece, Linda Mulheron of Swanton as well as many nieces, nephews, great nieces and nephews.
In addition to her parents and husband George, Toots was predeceased by her grandson, Shane Lacoste on June 29, 1994; two sisters, Rita Benjamin and Marion Brooks and three brothers, Ralph "Bob", Marshall "Zeke" and Carlton "Kike" Beyor.
A Private Funeral Service will be held at the convenience of the family. Father Luke P. Austin will officiate. The Rite of Committal and Interment will follow at the Hakey family lot in Riverside Cemetery.
Gifts in Toot's memory may be made to the American Cancer Society, New England Division, 55 Day Lane, Williston 05495.
To offer private online condolences please visit: www.kiddermemorialhome.com