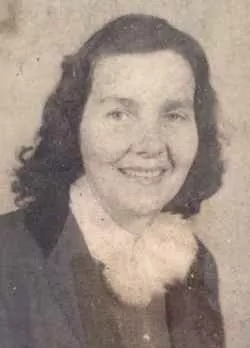 Lillian Louise Luman Robtoy
Lillian Louise Luman Robtoy a longtime area resident passed away Saturday, January 16, 2016, at her home with her loving family at her side.
She was born on June 9, 1922, in Milton, the daughter of the late Frederick and Mary L. (Cameron) Luman. Lillian was 93 years old.
Lillian was very active in the Robert E. Glidden Post # 758 and Green Mountain Post # 1, American Legion Auxiliaries, where for many years she sold Poppies. She also was a member of the Women of the Moose, Lodge # 1090, Franklin County Humane Society, the Ladies of St. Anne Society, and was an avid bingo player.
Survivors include her daughters, Peggy Donahue of St. Albans and Paula Corey and her husband, Roger, of Franklin; her grandchildren, Joey, Kim and Kevin, Wendy, Jeff, Mary, Brian and Amy, Tommy and Kim, Chad and Amy and Joe Cross; her fifteen great grandchildren and her four great great-grandchildren.
Lillian is also survived by many nieces and nephews, including special nephew, Donald Luman of Fairfax, special niece, Pat (Luman) Zawalick of MA and two step-granddaughters, Donna Boutah and Pauline Demag, also Nancy Saliba who checked in every week on Lil, as well as her feline companions, Precious and Lucky.
Lillian is preceded in death by her father, Fred on May 15, 1940; mother, Mary on December 5, 1969; former husband, Paul on November 17, 1966; son, Joseph on June 8, 2007; granddaughter, Sherry on May 6, 1999; her siblings, Alice Gray on November 3, 1991, Frank on June 17, 1971, Fred on March 26, 1987, Robert on November 19, 2003, Herman "Tinker" on August 27, 2004, Raymond on February 26, 2015, son-in-law, Thomas Donahue, December 25, 2009, and several nieces and nephews.
Lillian's family would like to thank Franklin County Home Health, especially, Becky Kane, Sue Domey, Joyce Fitzgerald, Teresa Bolt and Annette Blanchard for the care and support given to Lillian and her family.
Special thanks to Mary Donahue, Cora Robtoy and Jan Metevier for their occasional assistance and Chelsea Donahue and Sam Murphy for all the errands they did. With this help, Lillian was able to stay at home.
Relatives and friends are invited to attend calling hours on Wednesday, January 20, 2016, from 4:00 to 7:00 PM at the Heald Funeral Home, 87 South Main Street.
A Mass of Christian Burial will be celebrated on Thursday, January 20th at 11:00 AM in Holy Angels Catholic Church, 246 Lake Street with the Reverend Henry P. Furman as celebrant. Interment will be in the spring in the family lot in Mount Calvary Cemetery.
With Lillian's love for animals, those planning an expression of sympathy are asked to consider the Franklin County Animal Rescue, 30 Sunset Meadows, St. Albans, Vermont 05478. Messages of condolence to Lillian's family are welcome at www.healdfuneralhome.com.