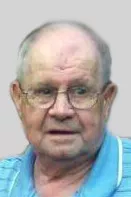 Leo A. Rheaume, age 87 years, passed away early Thursday morning, May 12, 2016, at the Northwestern Medical Center with loving family at his side. He was the loving husband of Latrice Ladieu who predeceased him in 2010 following 56 years of marriage.
Born in Highgate on, April 20, 1929, he was the son of the late Adhemar and Angelina (Poulin) Rheaume. Leo lived on the border in Highgate, and therefore attended schools in Canada. He was a longtime resident of Franklin County. He faithfully served his country in the U.S. Army during the Korean Era and received his honorable discharge in 1955.
He was employed as a machinist with several companies in the area. He was a devoted husband, father, grandfather and great-grandfather. He loved hockey (Bruins and Canadians), enjoyed the outdoors, camping and playing golf.
Leo is survived by his children, Dale (Pauline) Rheaume of New Hampshire, Marc (Holly) Rheaume of Vermont, Terry (Kathi) Rheaume of New Hampshire, Steven (Kim) Rheaume of Vermont, Bruce (Tammy) Rheaume of Vermont, Bryan Rheaume of Florida, Karen (Steven) Marshall of New Hampshire and Lori (Brian) Marcotte of Vermont as well as, nineteen grandchildren and several great-grandchildren. He was predeceased by several brothers and sisters.
A funeral service will be held on Tuesday, May 17, 2016, at 2:30 pm from The Kidder Memorial Home 89 Grand Avenue Swanton. Father Luke P. Austin will officiate.
Friends may call at the funeral home on Tuesday afternoon from 1 p.m. until the hour of the service
Gifts in Leo's memory may be made to a charity of your choice.
Interment will be at the convenience of the family in St. Mary's Roman Catholic Cemetery.
To offer private online condolences please visit: www.kiddermemorialhome.com