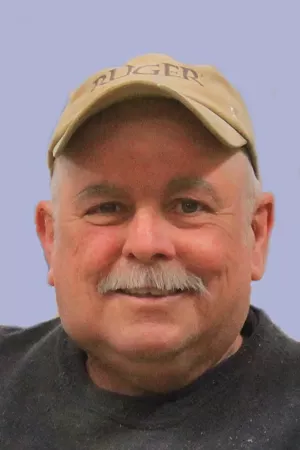 Larry "LP" Cameron passed away on Sunday, May 1, 2016, at UVM Medical Center surrounded by his wife and children.
He was born, December 18, 1956, in St. Albans, to Darwin Sr. and Velma (Jarvis) Cameron. He attended high school at Missisquoi Valley Union and graduated in 1974. On June 21 1981, he married his longtime sweetheart Susan (Lockerby) Cameron.
For over 30 years he owned and operated Cameron's Custom Woodworking. He was an avid member of the NRA and a true craftsman. He will be remembered for his many talents, love of restoring classic Honda motorcycles and most of all his beautiful smile and the twinkle in his eyes. We will all miss the amazing wildlife and scenic photos he shared with us every morning.
He was predeceased by his father Darwin Sr. in 1979.
He's survived by his wife, Susan (Lockerby) Cameron and son, Larry Cameron, Jr. both of Alburgh, ; daughter and son in law, Melissa and Larry LeBlanc and three grandsons, Devin ,Isaiah and Lucas of Isle LaMotte ; his beloved mother Velma Cameron; brother and sister in law, Darwin, Jr. and Karen Cameron; his sisters and brother in laws, Barbra Jean and Vercil Blair, Martha and Dennis Pease all of Alburgh, and Annette and Alan Smith of Littleton, NH also many many nephews, nieces and cousins.
A Funeral Service will be held Sunday, May 8, 2016, at 5 p.m. from The Kidder Memorial Home, 89 Grand Avenue, Swanton. Longtime family friend, The Reverend Mr. Duane Langlois will officiate.
Friends may call at the funeral home on Sunday from 3 p.m. until the hour of the service.
In lieu of flowers the family requests gifts in Larry's memory be made to the Alburgh Volunteer Fire Department and Rescue, 4 Firehouse Road, Alburgh 05440.
To offer private online condolences please visit: www.kiddermemorialhome.com