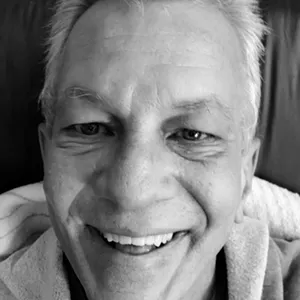 Courtesy
Kevin O'Hara
Kevin Patrick O'Hara of Colchester, Vt., abruptly passed on June 22, 2022. Born in Perth Amboy, N.J., to Michael and Johanna (nee Herega) on January 22, 1965, Kevin spent his early years in and around Fords, N.J., developing a passion for jazz, pork roll (Taylor Ham is a brand, thank you very much), high jumping, and the Mets.
When a primary and secondary Catholic education failed to indoctrinate him, he escaped from New Jersey to attend St. Joseph's University in Philadelphia. While occasionally pursuing his studies, he met several life-long friends, as well as the only woman he ever married, Debra McLean (nee Johnson). Although their romantic relationship didn't last, their friendship certainly did, and their union produced his greatest joy, their daughter, Caitlin. Big-city life quickly dulled for the new parents, and the young family relocated to Moultonborough, N.H., before Caitlin's first birthday, where they would successfully co-parent her for the next 18 years.
During his daughter's attendance at the University of Vermont in Burlington, Kevin fell in love with the area and set a goal to retire there. Although his retirement is now on a more permanent basis, he did make it to Vermont, and in 2019 he moved to Colchester, a mere five minutes up the road from his daughter.
To those who didn't know him well, Kevin often came across as a cynical, sarcastic asshole. To those who did know him well, he still often came across as a cynical, sarcastic asshole, but one who cared deeply and truly for his friends and family, especially his daughter. He instilled in her a love of dogs, an appreciation for nature and baseball, and, most importantly, a passion for good food and even better beer. Kevin adored his grand-dogs, Spencer and Garcia, and delighted in every opportunity to have them over to his place, which he jokingly referred to as their "summer vacation home."
Kevin leaves behind his daughter, Caitlin O'Hara-Whalen and her husband, Danylo, the son-in-law he loved as his own; his former wife, Debi, and her husband, Andrew, a man Kevin referred to as Caitlin's "bonus dad" and whom he loved as a brother; his nieces, Colleen Kurdyla (nee O'Hara) and Patricia Kas (nee O'Hara), their husbands and children.
There will be no funeral, wake, or service of any kind as he didn't really believe in all that anyway. In lieu of flowers, his daughter asks that donations in his honor be made to the Lakes Region Humane Society in Ossipee, N.H. Root for the Mets, enjoy a good meal and cold beer with friends, and always wish losses on the Yankees.