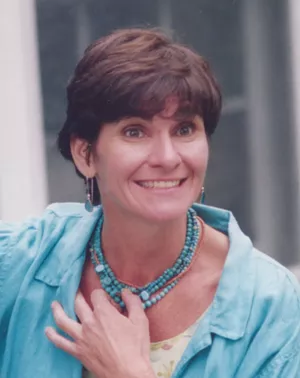 Kathleen O'Neil passed away peacefully on November 13 at her home in Warren after a long battle against metastatic breast cancer. She was born in Troy, N.Y., on October 27, 1957. She was one of two children brought up by her loving parents, Aileen and Albert O'Neil of Woodford, Vt., where she spent her childhood years. She attended Woodford Elementary School and Mt. Anthony High School in Bennington, Vt., and then went on to receive her bachelor of arts degree at the University of Vermont.
She was a talented artist, especially when it came to designing and knitting beautiful winter hats, which became an at-home business that kept her busy for years, evolving into what came to be called Kathleen Knits. She enjoyed wind and water, becoming quite proficient at windsurfing and, later, sailboat sailing on her favorite Lake Champlain. She was an avid lifelong skier and enjoyed teaching at Sugarbush for a number of seasons. Skiing was her "therapy"! She was a strong, devoted, caring mother and raised two beautiful children in Bristol, Vt.
She is survived by her partner and loving soulmate, Brook Weston; her children, Katchen and Quinn McElwain of Burlington, Vt.; her sister, Maureen "Tyke" O'Neil, and niece, Jaime O'Neil, both from Woodford, Vt.; Tyler "Hobey" Weston of Bend, Ore.; her best friends, Kyoko, Debbie, Lesley and Mary Ann; her beloved guard cat, Nellie; and so very many other special people in her life. She was loved for her kindness, generosity, great food, humor and, most of, all that infectious smile! She will be missed by all who were fortunate to have known and loved her.
A celebration of her life will be held at a later date. In lieu of flowers, donations should be made to her local nonprofit, Global Health Media Project, 30 Common Rd., Waitsfield, VT 05673 or globalhealthmedia.org.