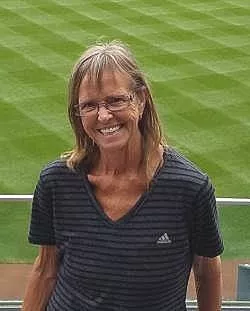 Katherine Marie Hotchkiss
Katherine Marie Hotchkiss
10/8/54 -12/25/2017
Grand Isle – Katherine passed away due to complications from cancer late Christmas night. Katherine was born in Waterbury, CT to Russell and Rose Overton.
Kathy is survived by her 3 children, 13 grandchildren and 3 great-grandchildren; Paul Hotchkiss and his wife, Crystal, and their children, Jade (Chris), Star and Willow and Jade's children, Isabelle and Carson; Tammy Bacon and her husband, Donald, and their children, Maranda (Trevor), Marissa (Nick), Amber and DJ and Maranda's daughter, Emilia; Arthur Hotchkiss and his wife, Nikki, and their children, Keith (Haley), Dakota (Alexis), Austin (Kierstynn), Tyler, Haven(Ella) and Kayden. Kathy is also survived by her sisters, Karen Gelati (Skip), Rosie Warner (Steven) and Marylou LaBrecque (Eric) and her brother Russell Overton as well as many nieces, nephews and cousins. Katherine was predeceased by her parents and her life partner, Allan LeMay.
Kathy was full of life and love and everyone who met her knows her great joys in life; camping, fishing, family and country music. She was an amazing fisher woman, dancer, cook, teacher and friend and will be missed by all whose lives she touched. Kathy will be FOREVER 29 in our hearts.
Calling hours will be held at the Heald Funeral Home, 87 South Main Street, St Albans, VT 05478 on Saturday, January 6th from 9:30-11:30 A.M. with a prayer service at 11:30 A.M.
To send Kathy's family a written message of condolence, please go to her on-line guest book at www.healdfuneralhome.com.