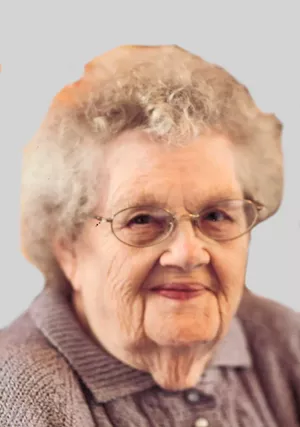 June Patricia Bouchard, age 88 years, died early Friday morning January 3, 2014, in the Franklin County Rehab Center with loving family at her side.
Born in Hadley, Mass on April 9, 1925, she was the daughter of the late Lester and Blanche (Bard) Ryan. She attended school in Highgate Springs and in April of 1942 was married to Isidore Edward Bouchard who predeceased her on December 23, 1984, following 42 years of marriage.
She will be remembered as an avid Bingo fan and loved playing scratch tickets.
Mrs. Bouchard's survivors include her seven children, Sheila and Art Taylor of Sheldon, Elaine and Jim Larrabee of Buxton, ME, Joan and Reg Ladue of Swanton, Sue Wells of Alburgh, Tina and Monk Hakey of Swanton, Isidore A. and Joanne Bouchard of Enosburgh and Dan and Angela Bouchard of Highgate Springs. Also surviving is her faithful care partner, Vicki Lamothe and many grand, great grand and great great grandchildren.
Besides her parents and her husband Isidore, Mrs. Bouchard was predeceased by a son, James Edward Bouchard in 1958; a son-in-law, Richard J. Wells in 2007; a great grandson, Nathan Allen Bouchard Howard in 2012; a sister, Shirley Ladeau and a brother Donald Ryan.
A Funeral Service will be held Tuesday January 7, 2013, at 11 a.m. from The Kidder Memorial Home, 89 Grand Ave., Swanton. The Reverend Anne Torrance Bachmann will officiate. Interment will follow at the Bouchard family lot in St. Mary's Cemetery.
Friends may call at the funeral home on Tuesday morning from 10 a.m. until the hour of the funeral.
Gifts in Mrs. Bouchard's memory may be made to the family to assist with expenses, in care of, Tina Hakey, 75 Grand Ave., Swanton 05488.
To offer private online condolences please visit: www.kiddermemorialhome.com