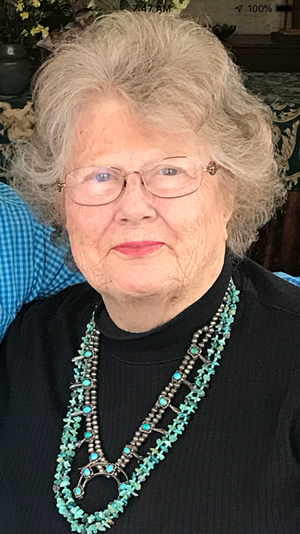 Judy Belle Jewell Saurman Kelly passed away on February 11, 2019, with her husband, Bill Kelly; son David Saurman; and daughter Ann Simon at her side. She was telling stories and entertaining those around her like she loved to do.
Her early days in Detroit, Mich., shaped her love of radio, news and broadcast television. After moving to Evanston, Ill., and attending Northwestern University, Judy worked for NBC in downtown Chicago. There she met and married Ken Saurman, and they developed a community of politically involved Chicagoans, painters and writers.
In 1970 she and Ken moved their young family to Vermont, and a new life began. Judy worked at the Shelburne Middle School for 25 years as the art teacher! She loved being a teacher, working from the Craft School and developing her own art. In 1978 she coproduced a book of marbled paper with her friend Judith Pierce that sold at the Smithsonian.
Ken Saurman died in 1980, and once again Judy had to pivot. Judy started Educational Travel Service with her dear friend Tim Kahn. She met Bill Kelly and, in 1984, married him. For the next 35 years, their lives were full of adventure and travel that took them from Central America to Southern Africa. The culmination of her years in Africa she documented in letters to her friends that became her book, Where the Tar Road Ends.
Judy was an avid reader, attending book group once a month, and an artist. She was in a craft group that met regularly and a painting group, the Monet Mamas, that met faithfully every Wednesday for many years.
Judy loved meeting new people, colorful people, but most especially her people — her beloved friends and family. If there weren't people in her sunroom every day, she'd go out and meet them. From city politics to community arts to immigrant families who just needed a friend, Judy was all in. Judy was a justice of the peace, served on the Tibetan Resettlement Board, was a founding member of Burlington City Arts, and was engaged in many other civic and nonprofit organizations.
We will miss Judy's storytelling, her embellishments and her loyalty.
Please join us as we celebrate Judy's life on May 4 at 2 p.m. at All Souls Interfaith Gathering, 291 Bostwick Farm Road, Shelburne, VT.