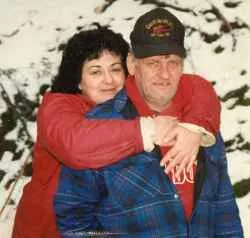 Judith M. Cantell a lifelong area resident passed away peacefully August 13, 2016, in her home with her loving family at her side.
She was born in Colchester at the Fanny Allen Hospital on February 12, 1943, the daughter of the late Noe Joseph and Leona H. (Bovat) Bedore. Judith was 73 years old.
On April 10, 1962, in St. Albans, she married Michael A. Cantell for 51 years. He passed away on October 8, 2013. "Forever their hearts are as one."
Judy went to work for Fonda Container in St. Albans and was employed for 21 years as a machinist. She also worked for many years as a caregiver, her love and compassion for others is truly a gift of the heart and made her so special. She was always giving to others before herself.
Her family was most important to her and there wasn't a day that went by, that she didn't say, "I Love You" to her family and friends.
Survivors include her children, Debra Thrush and her significant other, Louis Badger, III, of St. Albans, Christopher Michael Cantell of France, Richard Wallace Cantell and his wife, Joan, of North Carolina and Teddy Cantell and his significant other, Becky Tipper, of Sheldon; her grandchildren, Joshua Thrush of Illinois, Jane, Jennifer and Ann Cantell of Boston, Matthew, Alexys and Dolton Cantell Tipper of Sheldon and a great-granddaughter, Haydie Thrush of Illinois.
Judy is also survived by 2 sisters, Joyce Ann Grenier of Claremont, New Hampshire, Helena McRae of Fairfax; a brother, Wilfred Bedore and his wife, Irene, of Montpelier, as well as many nieces and nephews.
In addition to her parents and husband, Judith was predeceased by a brother, Chandler Bedore and sister, Catherine Bressette.
Judith's family would like to thank the staff of Franklin County Home Health and Hospice for all their loving support during this difficult time. With your help, you made it possible for Judy to be home with her family.
At Judith's request, she was cremated and a small family gathering will be held at a later date.
Assisting the Cantell family is the Heald Funeral Home, where messages of condolence are welcome at www.healdfuneralhome.com.