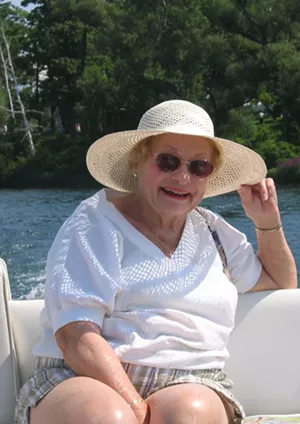 Courtesy
Joyce Holly
It is with great sadness that we announce the passing of Joyce S. Holly, 94, who died peacefully at Syracuse Home at McHarrie Place on January 3, 2023.
She was born on August 7, 1928, in Brockport, N.Y., daughter of the late Leon and Frieda (Clough) Salisbury, and attended Rochester schools.
Joyce was always at her happiest when socializing and laughing with family and friends, whether it be at a party, a square dance, or a game of cards. She loved life and all it had to offer.
She adored her husband of 54 years, Kirk, and the times the couple spent cruising the Lake Ontario shoreline and the Thousand Islands. These were some of her most blissful days. In retirement, they explored the United States in their RV, which gave her much joy, as their days were filled with new adventures and new people to meet.
Joyce's hands were seldom still, as she raised four children and still had time to create smocked garments and to sew, quilt, crochet and knit, making everything from sweaters to mittens for her grandchildren and great-grandchildren. She loved to bake and pies were her specialty.
Joyce was an active volunteer for the Oswego County 4-H Club, and the First United Methodist Church in Oswego, N.Y., and Burlington, Vt.
Through the years, she held positions at Kodak, St. Regis, Columbia Mills, and at Oswego High School as a reading resource coordinator. She retired from the Oswego High School.
Joyce was predeceased by her husband, Stanley "Kirk" Holly, in 2003.
She is survived by her daughters, Sue (Steve) Small of Clifton Park, N.Y., Joan (Thomas) Pelis of Brewerton, N.Y., and Lynn (Dave) Mirisola of Cape Neddick, Maine; one son, Mark (MaryFrances) Holly, of Colchester, Vt.; and nine grandchildren and 13 great-grandchildren.
The family wishes to thank the staff at Syracuse Home at McHarrie Place for the loving and compassionate care provided to their mother over the past five years.
Contributions can be made to the Alzheimer's Association Central New York Chapter 5015 Campus Wood Drive Syracuse NY 13057, or McHarrie Life Foundation, 7740 Meigs Rd., Baldwinsville, NY, 13027.
The family will be holding a gathering in August to celebrate Joyce's life, when relatives and friends can be together.