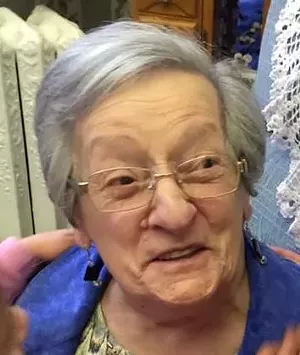 Josephine "Jo" Pare, passed away at Green Mountain Nursing and Rehabilitation Center in Colchester, VT on Friday September 9, 2016 which was her 86th. birthday with family at her side. She was born in Newark, NJ, on September 9, 1930, daughter of Serafurio and Clementine Spiotta Falcone. Jo married Robert Naef and resided in Grand Isle, Vt. Bob passed away in 1956 leaving her with two sons, Frank and David. In 1956 on a blind date, she met the second love of her life, Romeo Pare of Swanton. "Ro" & "Jo" were married six months later on October 4th, 1959. They shared fifty five wonderful years of marriage together, vacationing with friends and retiring in Florida for almost thirty years.
Jo loved to knit, needlepoint, paint, braid rugs, cook and bake. She handmade many special gifts for her children, grandchildren and great-grandchildren, that will be cherished for many years. Jo was a talented seamstress and worked for Claire Brault of Brault's Alteration Shop in St. Albans, Vt. for many years.
She is survived by her son, Frank Naef and wife Judy, of Essex Junction, Vt., son, David Naef and wife Kandi of Swanton, VT, daughter Susan and husband Steve, of Essex, VT, seven grandchildren, Ivy and Joe Knipes, Jaren Naef, Christopher and Amanda Naef, Shawn Naef, Gregg and Jen Wimble, Chad and Judith Wimble, and Liza and Dave Nesbitt. She is also survived by 9 great-grandchildren, who loved to visit Grandma Jo. She loved them and delighted in their visits. She also enjoyed her many visits with Cobalt, her favorite 4-legged buddy. Jo leaves one sister, Mathilda Guerrera of NJ, and sister-in-law Dee Falcone of NJ, sister-in-law Ruth Naef of NJ, and many in-laws, nieces and nephews. She was predeceased by five sisters, three brothers and several brothers-in-law and sisters-in-law.
The family will receive condolences at the Brady and Levesque Funeral Home, 86 South Main St., St. Albans, VT on Thursday, September 15th, from 6:00 – 8:00 PM. Interment will follow in the Vermont Veterans Memorial Cemetery in Randolph, VT., Monday, September 19th at 11:00 AM. Online condolences may be sent to the family at the funeral home website: www.bradyandlevesque.com. The family would like to give many thanks and appreciation to the wonderful staff at Green Mountain Nursing and Rehabilitation for their loving care and kindness during Mom's illness. Anyone wanting to follow the procession to the cemetery, can meet us in the Shaw's parking lot in Williston, VT. We will be leaving promptly at 9:30AM. Arrangements are entrusted to the Brady and Levesque Funeral Home and Commemorative Services.